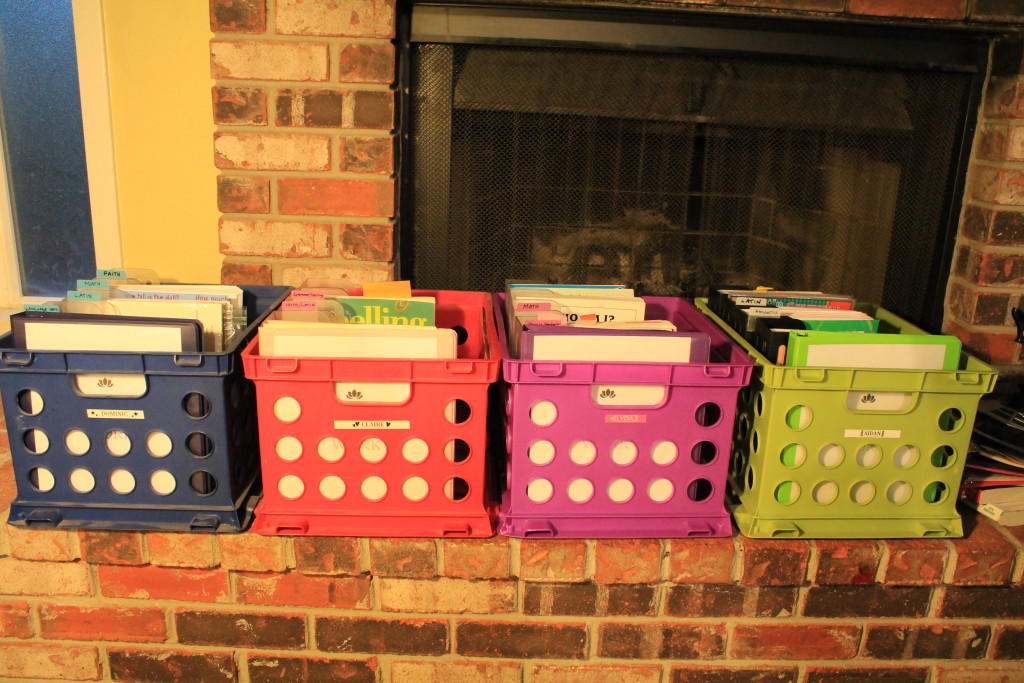 (The image above is our curriculum boxes.  The children have their own box for keeping their school books organized, but this year I'm adding an organization binder to the front of each box which will help the kids know what they need to do each day. More on this later this week.)
It's Christmas in July around here with new curriculum arriving regularly at our door.  Here are my curriculum lists for all four children this year, with the caveat (as expressed in yesterday's post) that my curriculum/book lists are just a sliver of what I believe makes homeschool effective, joyful, and worthwhile.
Things highlighted in orange are family studies:  These are whole-family learning and faith experiences. This year I'm returning to a tradition of reading a poem to the kids at lunch.  I always or nearly always have some kind of on-going family devotion or celebration depending on the liturgical season. I have posted about these studies and celebrations in the past.  Some of these are old traditions, but every year I look for new books and activities which I plan monthly or just before a particular liturgical season.
New this year:
For grammar and writing, I am returning to my old trusted Rod & Staff "Building Christian English" program.  I have tried several other grammar and writing series and none of them worked for us.  I personally do not like having two separate programs for grammar and writing, particularly in the early years when my time is needed most intensely. I am very intrigued by Simply Charlotte Mason's new grammar program (Using Language Well), but it is tied to their spelling program which I am not so sure about.  So, for now, we are using Rod & Staff.  I appreciate that Rod & Staff folds both disciplines together in one book and that the program delays writing composition until grade 4.  I also appreciate the lessons in proper phone etiquette and other manners of conversation.  I regret to say that my children were bored with the very popular Charlotte Mason grammar books, but I know I can make Rod & Staff Charlotte Mason-friendly.  With Dominic, I will be using Rod & Staff 3 and will be doing dictation with him.  I will be using Rod & Staff 5 with Claire for a review because I'm not confident she got the basics down well enough, but I am hoping to move on to 6 with her by the spring.  She is also taking an on-line IEW writing course, so I will skip the writing lessons in Rod & Staff.   Aidan, my teenager, is taking an AP English course on-line so he is on his own!
This year Claire (12) and Dominic (9) will be doing science and Latin together.  I am trying Aurora Lipper's Ultimate Science curriculum which is very visual and hands on.  We enjoyed Pandia Press's REAL Science for the elementary grades, but their middle school Life Science was not successful with Claire last year.
We are trying a co-op with another family this year: I will teach her older kids (along with Claire and Dominic) history, art appreciation (picture study), and Shakespeare; my friend will teach Lydia (along with her younger children) nature studies, songs, and fun science.
A huge disclaimer:  I make these plans, but I am very comfortable forgoing my plans.  I rule the plans; they do not rule me. So if something isn't working, we drop it. Every year, something interesting comes up so we follow our noses and put aside our curriculum lists for a while.
Lydia (kindergarten)
FAITH
Tell Me about My Catholic Faith (Ignatius)
select storybook titles related to liturgical season
family devotions
MATH: 
Saxon 1
Family Math by Jean Kerr Stenmark
SCIENCE/HEALTH:
Co-op

family nature study

Growing, Growing Strong: A Whole Health Curriculum for Young Children (selected topics)
LANGUAGE ARTS:
1.  Handwriting
Zaner-Bloser Handwriting K
2.  Phonics and reading
Continue Phonics Pathways
Modern Curriculum Press Plaid Phonics Level A (for fun)
Reading practice: leveled readers (Bob Books, American Language Readers)
3.  Literature read-alouds
Lunch time poetry

Complete tales of Beatrix Potter
Complete Tales of Winnie the Pooh
selected fairy tales
The Important Book by Margaret Wise Brown
A Tree Is Nice by Janice May Udry
How to Make an Apple Pie and See the World by Marjorie Priceman
Frederick by Leo Lionni
Follow the Dream: The Story of Christopher Columbus by Peter Sis
Ox-Cart Man by Donald Hall
Pumpkin Moonshine by Tasha Tudor
The Story of Ferdinand by Munro Leaf
Pancakes, Pancakes! by Eric Carle
Bread and Jam for Frances by Russell Hoban
This First Thanksgiving Day by Laura Krauss Melmed
The Little Fir Tree by Margaret Wise Brown
The Twelve Days of Christmas illustrated by Jan Brett
Mr. Willowby's Christmas Tree by Robert Barry
Stellaluna by Janell Cannon
Owl Moon by Jane Yolen
Stopping by Woods on a Snowy Evening illustrated by Susan Jeffers
Gregory's Shadow by Don Freeman
Walter the Baker by Eric Carle
Katy and the Big Snow by Virginia Lee Burton
The Frogs and Toads All Sang by Arnold Lobel
Roxaboxen by Alice McLerran
Cactus Hotel by Brenda Z. Guiberson
Hide and Seek Fog by Alvin Tresselt
All Things Bright and Beautiful by Cecil Frances Alexander
A Tale for Easter by Tasha Tudor
What Do You Do With a Tail Like This? by Steve Jenkins & Robin Page
A House for Hermit Crab by Eric Carle
An Extraordinary Egg by Leo Lionni
The Seven Silly Eaters by Mary Ann Hoberman
Come On, Rain! by Karen Hesse
Wonders of Nature by Eloise Wilkins
Hubert's Hair-Raising Adventure by Bill Peet
Dominic (grade 3)
FAITH
Faith & Life 3: Our Life with Jesus (Ignatius)

family devotions
LANGUAGE ARTS
1.  Grammar and Pre-Composition: Rod and Staff 3: Beginning Wisely (supplemented with dictation)
2.  Handwriting: Zaner Bloser Handwriting 3
3.  Spelling:  Spelling Workout B
4.  Literature and Poetry:
Lunch time poetry

Shakespeare co-op

Midsummer Nights Dream
Macbeth
Much Ado About Nothing
Romeo and Juliet

Quiet Reading (I will make further selections related to our faith, science, and history studies):

Paddington Bear (with MP Literature Guide)
King Arthur and His Knights (audio with Claire)
Peter Pan
The Wizard of Oz
Pippi Longstocking
MATH
Teaching Textbooks (finish 3, begin 4)
SCIENCE
Jack's Insects (with Claire) (Simply Charlotte Mason)
Supercharged Science: Astronomy and Earth Science (with Claire)
family nature study
HISTORY/Geography:
History co-op:  Story of the World: Middle Ages
Geography:  Tour a Country (with Claire) (Catholic Heritage Curriculum)
LATIN
Latina Christiana 1 (with Claire)
Ludere Latina 1 (Latin games just for fun)
ART HISTORY (Picture Study):
Co-op:  Simply Charlotte Mason Picture Study kits: Turner, Duhrer, Van Gogh, DaVinci
MUSIC and PE:  Dominic takes piano and karate
Claire (grade 7)
FAITH
Faith and Life 6: Following Christ (Ignatius)
family devotions
LANGUAGE ARTS
1.  Spelling: Spelling Workout F
2.  Grammar & Composition:
Rod & Staff 5 and 6 (5 for about 8 weeks)
IEW with medieval history (on-line live class)
3. Literature
Lunch time poetry

Shakespeare co-op

Midsummer Nights Dream
Macbeth
Much Ado About Nothing
Romeo and Juliet

Quiet Reading (I will make further selections related to our faith, science, and history studies):

Anne of Green Gables (with Literature Guide)
Alice's Adventures in Wonderland (Lewis Carroll)
Adam of the Road with Literature Guide
King Arthur and His Knights (audio with Dominic)
The Canterbury Tales (either the Cohen or McCaughrean translation)
Door in the Wall with literature guide
The Rainbow People (Lawrence Yep)
*Science, Latin, Art History, History, and Geography:  all the same as Dominic (Claire may receive extra assignments)
ART:  Claire has an art class (mixed media)
Aidan (grade 11)
For the sake of completion and in case anybody would like some insight into what homeschooled high schoolers do, here is Aidan's learning plan.  Most of his courses take place on-line and at in-person classes (the exception this year is apologetics and Latin, which I will teach and oversee).  We don't have the syllabi for his live classes yet.
FAITH:
Beginning Apologetics Parts 1-9 (San Juan Catholic Seminars)

family devotions
MATH
Honors Pre-calculus (Kolbe Academy) (live on-line class)
SCIENCE
AP Physics (Kolbe Academy) (live on-line class)
LANGUAGE ARTS
lunch time poetry 
English:
AP English (Memoria Press) (live on-line class)
Classical Literature
High School Classical Literature 3 (in-person class)
*This is Aidan's 5th year studying classical literature with Bob Villareal, who is a treasure to our local homeschool community.  Aidan and his friends make jokes based on classical literature! I'm not sure what Bob has in store for the kids this year, but last year they read Herodotus: The Histories, Virgil's Aeneid Books 1 to 6, The Last Days of Sophocles by Plato, and The Three Theban Plays by Sophocles.
HISTORY/GOVT/GEO/ECON
Computer programming (fall) (Khan Academy – free course!)
Econ or Government (spring) (TBD)
LATIN:
First Form Latin (Memoria Press)
ELECTIVES:
Public Speaking: Gavel Club (Aidan is the newly-elected president of our local teen Toastmasters Club)
Civil Air Patrol (Aerospace Education, Leadership, Character Development)
*******
That's it!  I've been working hard setting up our homeschool room to work better for us, especially with Lydia starting kindergarten work this year.  I have lots to share this week!