As Ash Wednesday approaches, I'm making my (Lenten) list and checking it twice.
Family Altar:  I've prepared our family altar with a few reminders of this liturgical season: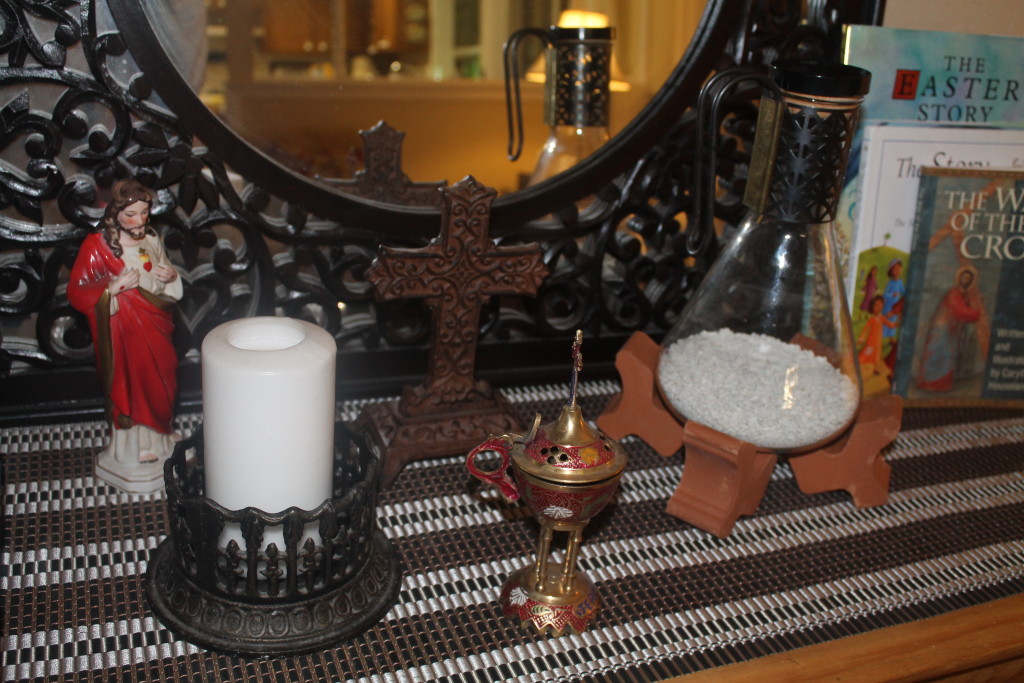 Bible: (Our stack of children's Bibles are off to the left of the photo shot).
Cross:  A reminder of Christ's sacrifice.
Image/statue of the risen Christ:  We will cover this with a black cloth during Holy Week but I like to keep it out during most of Lent.
Censer: To raise our Lenten prayers in supplication.  We've been using a censer during family prayer for about a year.  Dominic especially loves it. Aidan doesn't like the smell, but we compromise by shutting the lid pretty quickly after the smoke really gets going.
Candle:  Christ is the light of the world and the fire of his love can strengthen us when we are tempted during Lent to stray from our commitment to simplicity.
Sand: In place of our altar plant, we have a vase of sand to remind us Christ's 40 days in the desert where he faced temptations.  The desert is also a symbol of retreat and solitude from the distractions of the world.  I hope our vase of sand will remind us during these weeks of Lent that our simplifying and sacrifices are meant to clear away some of the more frivolous debris of the modern world so we can encounter God more easily.
Special Books:  I've displayed our Lent and Easter books, which only come out during this time of year so that the kids feel like old friends have returned: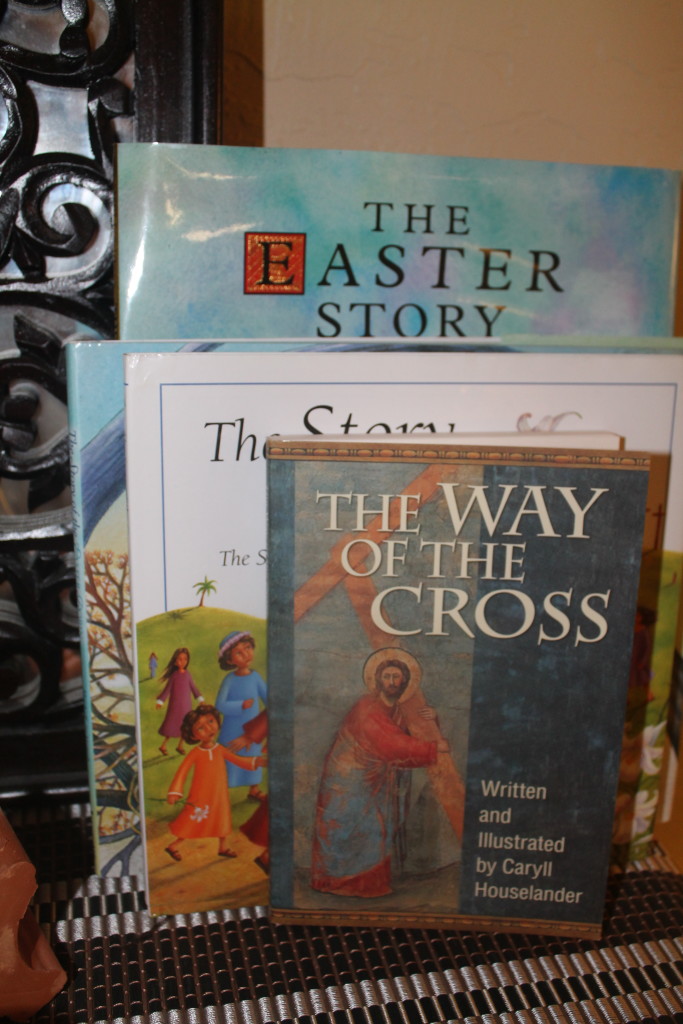 I'll post a list of our favorite selections this week.  Up front, though, are our stations of the cross books which we will begin using next week.
Here are a few things on the agenda for this week:
Shrove Tuesday:  Tomorrow is Shrove Tuesday (or Pancake Tuesday), the day on which Christians traditionally used up all their eggs and butter before Lent by having pancake feasts along with games. Eggs and butter or no longer prohibited during Lent, but it's still a fun and delicious tradition and we enjoy it every year as a prelude to Ash Wednesday! I'm making homemade strawberry syrup to top our stacks.
Ash Wednesday:  We'll attend Mass and our parish soup supper in the evening.  During school hours, we'll prepare a salt dough crown with 40 "thorns" (toothpicks) like this one on a Catechist's Journey.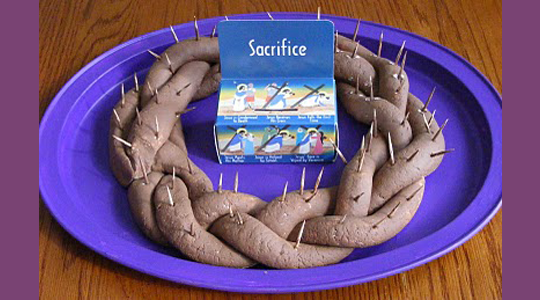 We'll place the crown in the center of the table and then place our almsgiving box in the middle of the crown.  When we make our daily donation to the box, one of the kids can remove a toothpick.  At the end of Lent, hopefully all the toothpicks will be gone!  We'll paint the crown gold on Easter Saturday.   Last year we tried a similar idea using a grapevine wreath, but toothpicks kept falling off, so hopefully this plan will work better.
Saturday:  Confession.  I'll take my children along with our Little Flowers Girls Club to confession.  First we'll be talking about why we go to confession and how to do an examination of conscience.  I love this visual aid for explaining confession to kids.  The link includes ideas for helping younger kids, tweens, and teens do an examination of conscience.
I have a few other things up my sleeve!  I'll be doing some Godly Play presentations for Lydia and Dominic.  Godly Play is a unique, Montessori-inspired catechesis program.  Lots of beautiful objects and storytelling.  I used 3 or 4 of the Godly Play Spring Presentations last year and I will add a few more this year.  I was dreaming of purchasing some of the prepared materials that they sell and even created a cart.  Sigh.  They are so expensive, so I will cobble together some materials from what I have around the house instead.  See, I've already made my first Lenten sacrifice and it isn't even Ash Wednesday!
I'm also planning to begin a Lenten prayer pot, which is used as a visual aid every Sunday of Lent. You make the pot now, then on each Sunday of Lent you add one object to the pot which represents a reminder of the faith for the children.  Here is a description. I think Claire and Lydia will enjoy making the pot sometime before Sunday.
We always have a Golgotha/Calvary display on our nature table.  Claire has some ideas for improving it, so we'll see what she cooks up!  Here's what the old one looked like.  Just a simple plant base with moss, a stick cross, a peg doll angel and a clay cave with "stone" door. Looks like our angel had wandered off somewhere in these photos . . .