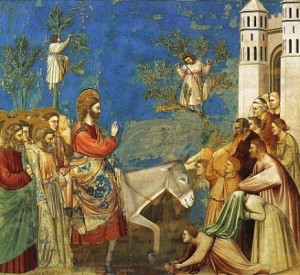 This Sunday is Palm Sunday, the last Sunday of Lent before Easter and the first day of Holy Week, the most important week on the Christian calendar. 
It's called Palm Sunday because we remember on this day the entrance of Christ into Jerusalem when palm branches were laid out in the path before him – only days before his arrest on Holy Thursday and his passion and death on Good Friday.
Blessed palms:  Blessed palm fronds will be distributed at Mass on Palm Sunday.  You can take them home and display them behind your crucifix or tuck them into the family Bible.  I often see kids at church twisting their palm fronds into crosses and I never quite knew how to do it.  I discovered there's a whole art surrounding palm weaving!  Here are instructions for making a very pretty palm cross and here are instructions for making a palm crown of thorns. 
You can save some of your palms to be burned for ashes for Ash Wednesday next year.  I read on fisheaters.com that some people break off a piece of a frond during times of natural disasters or bad storms.  They burn the piece and pray this prayer to Saint Barbara for relief:
Saint Barbara, your courage is much stronger than the forces of hurricanes and the power of lightening. Be always by our side so that we, like you, may face all storms, wars, trials and tribulations with the same fortitude with which you faced yours. O Beautiful Maiden once imprisoned in a high tower, protect us from the lightning and fire that rages in the sky and the discord of war. Keep us alert and protect us from the dangers that surround us. Holy Mary Mother of Jesus intercessor for us all; we pray to assure receiving of the Sacraments of Penance and Holy Eucharist at the hour of our death. Through Jesus Christ Our Lord, Amen
Figs:  Figs are also associated with Palm Sunday because after his entry into Jerusalem, Jesus went to get figs from a tree.  Finding only leaves, Jesus cursed the tree:  "May no man hereafter eat fruit of thee any more for ever."  Matthew 21:19.  (Jesus would be very
disappointed if he looked in my refrigerator fruit drawer right now!)
Figs.  I don't think I've ever had a fig.  At least not knowingly. I think I've seen them and they looked a little like prunes to me so I've never been interested.  Or maybe I'm thinking of dates.  Anyway, I'm adding one new element for Palm Sunday this year and it's gonna be figs.  That's right, figs, even though they're a mystery to me.  I found this intriguing recipe for fig ice cream and I'm going to give it a try:
******************************************************************
Fresh Fig Ice Cream from David Lebovitz's The Perfect Scoop
2 lbs fresh figs (about 20)
1/2 cup of water                                                                                                                       1 lemon
3/4 cup of sugar
1 cup of heavy cream
1/2 teaspoon of freshly squeezed, lemon juice, or more to taste
Remove the hard stem ends from the figs, then cut each fig into 8 pieces. Put the figs in a medium, nonreactive saucepan with the water, and zest the lemon directly into the saucepan. Cover and cook over medium heat, stirring occasionally, for about 8-10 minutes until the figs are tender.
Remove the lid, add the sugar and continue to cook until it reaches a jam-like consistency. Remove from the heat and let cool to room temperature. Blend together with cream and lemon juice, chill in the fridge and then put in your ice cream maker per the manufacturer's instructions.
***************************************************
Hopefully I can find fresh figs this time of year.  I'll let you know how it goes!