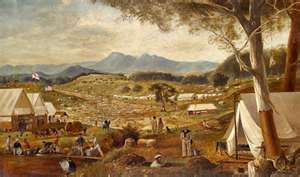 I have a post to share about Dominic's birthday and a post on candlemaking, but my camera with the associated photos has disappeared into some black hole in the house.  You know how it is.  Everyone thinks they've seen it somewhere, but they can't remember where the somewhere is.  So while I continue hunting, I thought I would share some California Gold Rush resources I'll be using in a few weeks when we (finally) finish our Revolutionary War learning block.
A few years back I was at a conference and met Randall Reinstadt of Ghost Town Publications.  He's a quite a colorful character himself, full of enthusiasm and stories, but he also writes historical fiction about the characters that filled the California valleys and hillsides during the 19th and early 20th centuries.  I purchased some of his historical fiction selections and a few of the history books from his "Tales and Treasures" series.  He also publishes collections of primary sources from this time period:  letters, newspaper reports, etc.  He offers hands-on activity guides to go with many of the books.
For our Gold Rush learning block we'll be reading the following books: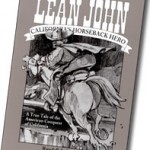 Lean John:  California's Horseback Hero.  This book is set in the 1840s, so before the Gold Rush happened, but I couldn't resist sharing this story with the children.  The book covers the adventures of Lean John Brown, a real life hero at the center of the battle over California.  The activity guide has a crossword puzzle, instructions for making a seal ring, a dramatic play, and more.
Tales and Treasures of the California Gold Rush.  This a great overview of the Gold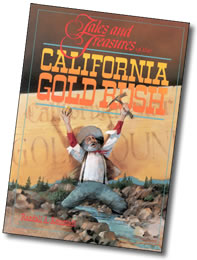 Rush, told partly through many fascinating stories and anecdotes.  A true living book. Some of the more intriguing chapter titles: "California Here I Come!", "Bandits and Badmen", "Women of the Gold Rush", and "What the Forty-Niners Did for Fun".  I didn't buy the activity guide to go with this book at the conference, but I plan to order it.  Some of the activities include "Buying & Selling Gold Rush Style" and "Miners Court".
While we travel back and forth to Berkeley every Tuesday, we'll listen to an audio-edition of the novel By the Great Horn Spoon by Sid Fleishman.  It's about a man who travels to California to make a fortune in the gold mines to save his aunt's home.  The smaller kids will make a Gold Rush lap book during the learning block.  I found this one for purchase, but I'm still hunting for a free basic template just to get some ideas.
I am super excited about a Gold Rush road trip we'll be taking!  It was supposed to be just little ol' me and the kids on the road for a week through Gold Country, but Philip couldn't resist the fun as he saw me planning our route, so he's coming along!  Details of our itinerary to come!