My first stab at a learning plan on Dog Training for Kids & More!
This plan is "more" than just a dog training curriculum adapted for kids, because I believe that just focusing on obedience and game skills is insufficient for ensuring the health and happiness of our canine family members.  Inspired by the holistic approach to dog care presented in Paul Owens' books and in Pitcairn's Guide to Natural Health in Dogs and Cats,  I created the following pie chart for the children so that they could see all the elements involved in caring for our new dog, Daisy: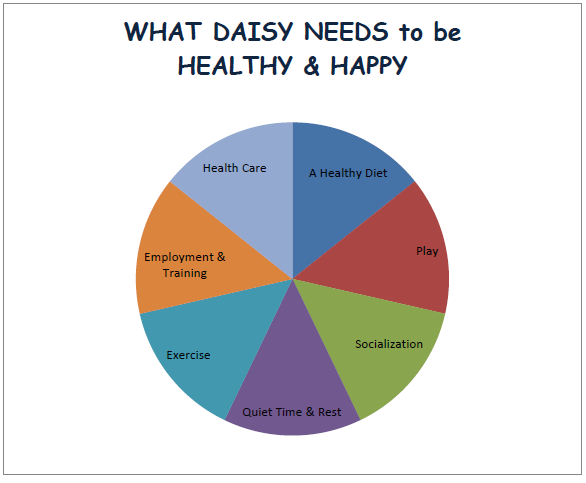 A dog needs a balance of all these elements to thrive.  If one of them is absent or neglected, behavioral issues can surface.  So, for example, if Daisy begins chewing on things, it's not just a sign that we need to focus on correcting that particular behavior.  We have to also look at these other areas to ensure she is healthy, well-rested, well-fed (on human-grade high-quality food), and that she's getting enough stimulation through exercise, games, and other challenges.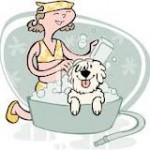 The kids will learn the basics about dogs (what they need and their motivations), in addition to learning about obedience training, grooming, and games to play with Daisy.  I've also found some resources that are just plain fun!
I'm sure this plan will evolve over time, but here's an idea of where we're headed.
♥
DOG BASICS:
Everything Dog (Marty Crisp).  An FAQ style format of common kids questions about their pooches.
The Kids Dog Book (Owl Magazine).
How to Talk to Your Dog (Jean Craighead George).  Helps young dog owners understand dog communication.  Cute illustrations of dogs interacting with the author.
Labradoodles (Brekka Hervey Larrew).  Our Daisy is a Labradoodle! This is a fun kid's book that explains the basics of this "designer breed" and how to care for them.  The series offers titles for other breeds as well.
SAFETY:
Choose from one of the following:
Be a Dog' Best Friend: A Safety Guide for Kids (Payne).  Do's and don'ts of how to approach and interact safely with dogs.
May I Pet Your Dog (Calmenson).  Harry the dachshund explains how to approach dogs safely and in a way that won't frighten a dog.
DOG TRAINING & PLAY:
DVD:  Dog Training For Children (Ian Dunbar).  One of the few dog training videos produced specifically for the younger audience.  Teaches the basics of obedience, building rapport, off-leash control, and dog training as a family activity.
Totally Fun Things to Do with Your Dog (Maxine Rock).  Games and activities for kids to enjoy with their dogs!
How Smart Is Your Dog:  30 Fun Science Activities with Your Pet (D. Caroline Coile).   Presents ideas various activities, including some science experiments, to help kids learn more about how dogs see, hear, smell, taste and touch.  The experiments test a dog's health, reflexes, vision, and sense of smell.
BOARD GAMES:
Dog-Opoly (by Late for the Sky).  Monopoly adapted for dog-lovers!
FICTION
Littlies to Middlies:
ABC (Wegman).  Alphabet book with weimaraner dogs posed in letter shapes!
Stickeen (John Muir).  The true story told by the famous naturalist about his experiences when stranded on a glacier in Alaska with another explorer and his dog, Stickeen.
Balto and the Great Race (Kimmel).  Based on a true story, Balto the Alaskan sled
dog leads a team of dogs to get serum for children sick with diphtheria.
Older Kids:
The Incredible Journey (Burnford).  Two dogs and a cat are lost in the Canadian
wilderness, and together they face the hazardous journey home.
Where the Red Fern Grows (Wilson Rawls).  The story of a boy and his two hounds who overcome many obstacles in their bid to win a coon hunting contest.