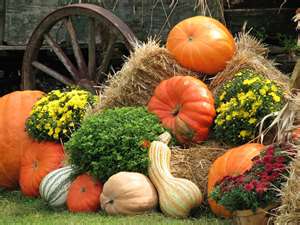 Pumpkins.  What is it about this great gourd that we love so?  It's a sort of odd looking thing, which only adds to our affection for it.  Our art teacher was here on Thursday and mentioned that she loves pumpkins and we all chorused "ME TOO!".   We love how they look, smell, and taste.  Even the word is cute:  pumpkin.  Pumpkin lumpkin super shmumpkin.  🙂
I've put together a preliminary resource list for a short (1 or 2 week) learning block on pumpkins.  We'll test drive it this week.  Yay!
♥
Storytime:
Pumpkin Moonshine (Tudor)
Pumpkin Soup (Helen Cooper)
Science:
Pumpkin Circle: The Story of a Garden (Levenson)
From Seed to Pumpkin (Pfeffer)
Crafts:
Every year we paint our family pumpkins, but here are a few more crafts we'll try this year.
Baking:
Cocoa pumpkin brownies
Pumpkin cheesecake (an old favorite)
♥
I can't wait to get to the craft store to get supplies for the crafts.  I'll probably find even more inspiration there.  I'll let you know how it goes!