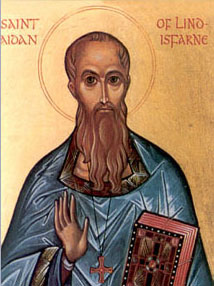 On Wednesday, August 31, we celebrated the feast day of Aidan's name saint, St. Aidan of Lindisfarne (d.651).  St. Aidan founded a monastery on the island of Lindisfarne off the coast of northeast England.   The local community there had been given up for lost to paganism, but Aidan befriended the local community, helped the youth, and spread the message of Christianity through his leadership-by-service approach to ministry.
For our Feast Day Tea, I dug out an illuminated lettering kit that I had purchased last year.  The kids each decorated their own letters, then we enjoyed a simple tea of home-baked sugar cookies and chocolate dipped strawberries.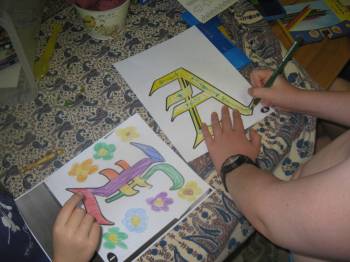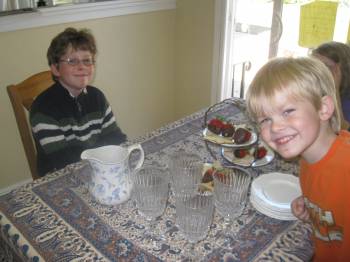 Lydia was a hoot helping us with the baking!  She has serious skills with the rolling pin.  I just flattened it for her a bit, then she rolled out the dough mostly by herself.  (Ya gotta love the jiggly baby belly!)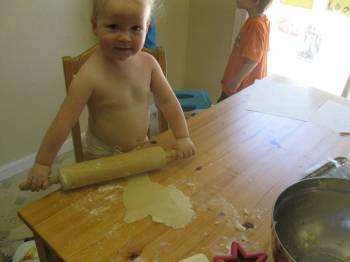 Prayer to Saint Aidan
O loving God, who called your servant Aidan from the peace of the cloister to reestablish the Christian mission in northern England, and gave him the gifts of gentleness, simplicity, and strength:
Grant that we, following his example, may use what you have given us for the relief of human need, and may persevere in commending the saving Gospel of our Redeemer Jesus Christ, who lives and reigns with you and the Holy Spirit, one God, for ever and ever.  Amen.