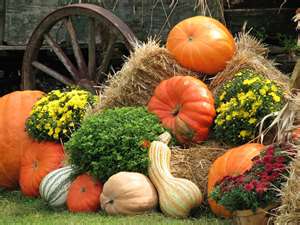 Resources for a mini learning block (2 to 3 weeks if you're doing other coursework; 2-3 days if you're doing an intensive unit study) on pumpkins!
Storytime:
Pumpkin Moonshine (Tudor).  A girl finds her prize pumpkin in her grandparents corn field, but how will she get it home?  Gorgeous watercolor illustrations.
Pumpkin Soup (Helen Cooper).  A story about friendship and cooperation.  Cat, squirrel, and duck love making pumpkin soup together until one of them decides he wants to change duties around and nobody is happy about it.
Science:
Pumpkin Circle: The Story of a Garden (Levenson).  A pumpkin makes its journey from seed, to pumpkin, to jack-o-lantern, and back to seed.
From Seed to Pumpkin (Pfeffer).  Perfect for younger kids.  How a pumpkin grows from seed to pumpkin, with recipes and experiments.
Baking:
Pumpkin cheesecake
Crafts:
Inspired by this October 2011 cover of Country Living magazine, Claire and I decided to try decoupaging pumpkins: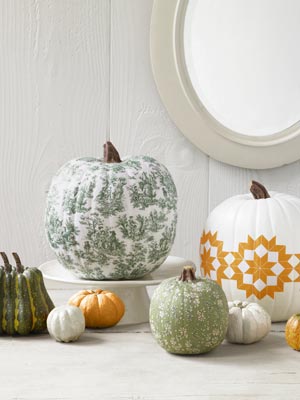 Instructions for Country Living's stunning pumpkins are here.  You can either use a real pumpkin or a faux one.  I found fake pressed board pumpkins at the craft store.
The CL article suggests photocopying fabric, but Claire and I found scrapbook paper with cool patterns so we used that.  We photocopied the scrapbook paper onto copy weight paper, because the scrapbook paper was obviously too thick.  However, we found that even the photocopy paper was too thick to decoupage easily.  Tissue paper would work better, but you won't get the awesome photocopied pattern that you get when using CL's approach.  Instructions for a similar project using tissue paper are found here.  Let me know if you find a way to get the CL project to work better!