We're humming along in the school year now and I can see clearly what is working well and what is not working. One of the big successes so far: work binders.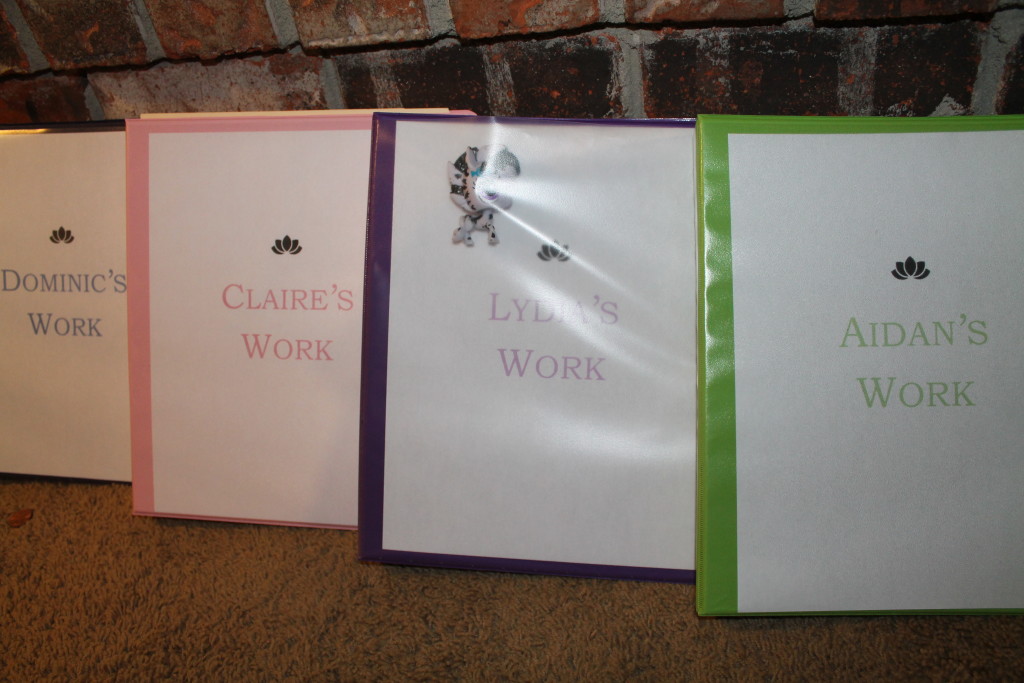 Sorry for the glare. Lydia's binder mysteriously sprouted a Littlest Pet Shop!  I have been using colored crates to hold the kids' books for many years.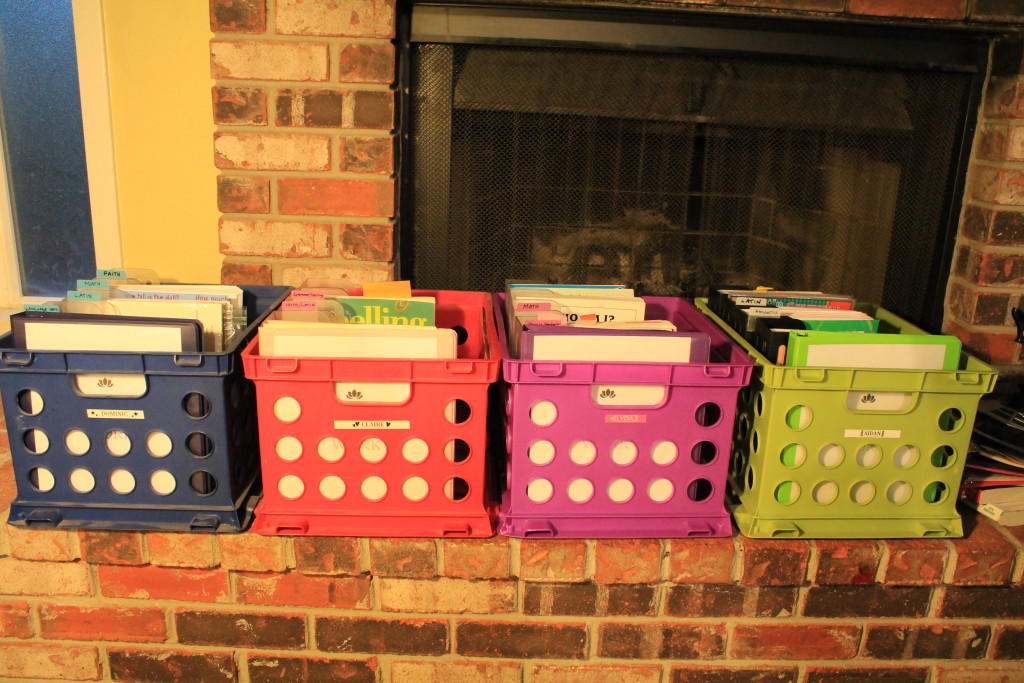 Each child has his or her own curriculum box; the color is coordinated to the colors I use in their daily task charts, curriculum lists, etc.  This is very satisfying to me, but not necessary!  I have plastic magazine holders inside the crates to hold up workbooks, and this year I added a few tabs to the plastic holders so the kids can keep their books better organized.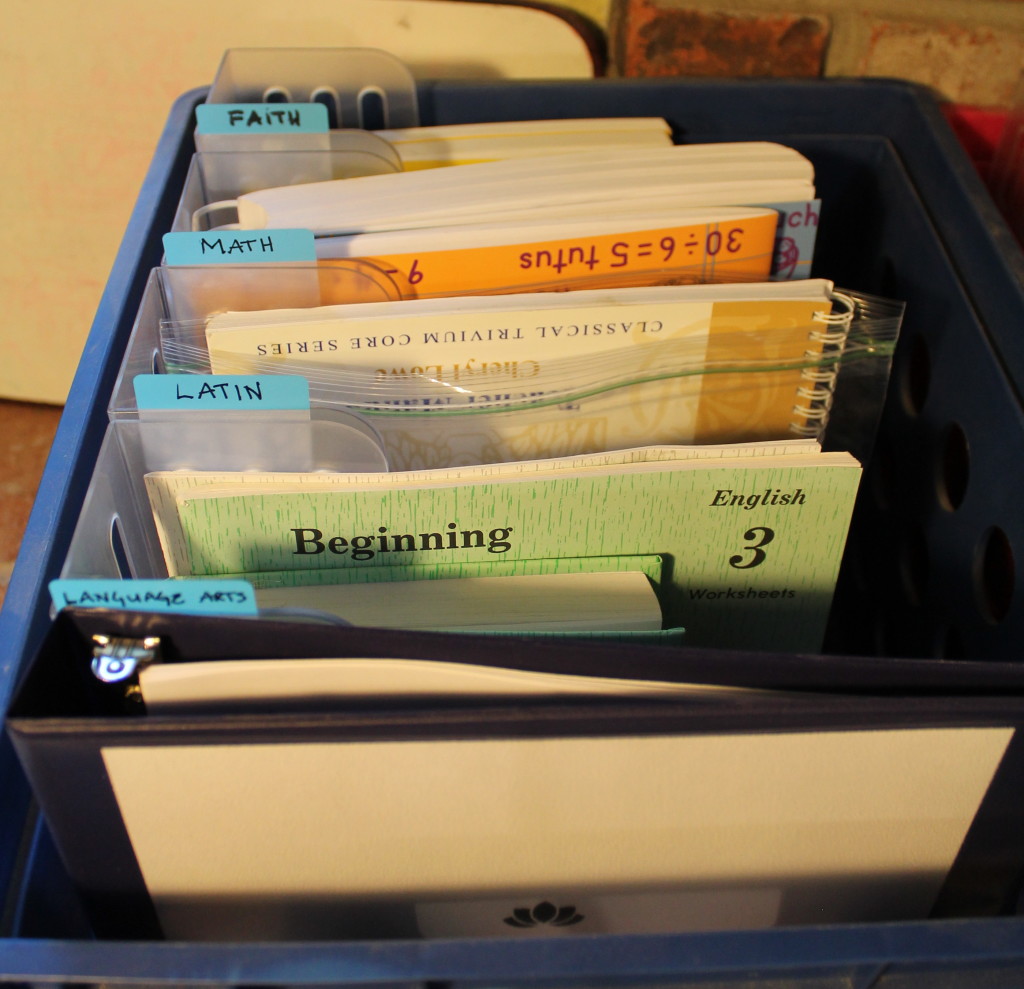 But the biggest hit is definitely the work binders that remain in the very front of their boxes.  You can see Dominic's right there in the front of his box.
In it I keep a copy of their curriculum list, daily schedules, and for my teenager all his syllabi.  When the child opens the work binder, at the very front they find  a daily work page listing everything they need to do for that day.
Here's what Claire's work page looks like: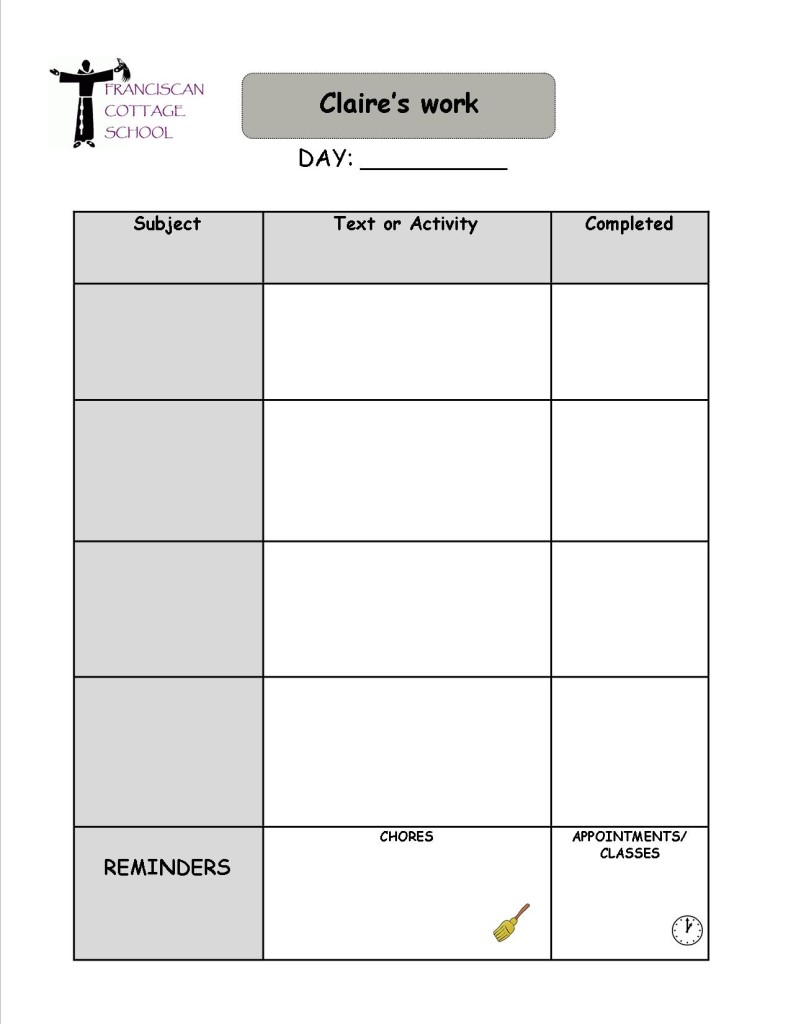 Every night I spend 10 minutes filling in exactly what the child needs to do in each subject.  Originally I only made 4 boxes because I thought I would only use the pages to list a few things – special projects or specific books they are reading for quiet reading. But they love the work pages so much that I've been listing everything they need to do in every subject. So when I run out of the pages I've printed out, I will make pages with more boxes for the older kids.  4 boxes seems to work well for Lydia who is in kindergarten.
Notice I also have a chore reminder on the bottom along with a heads up about classes or appointments they have during the day.
The children place a checkmark in the right hand box when they complete a task. They are required to have all their work done before they can have screen privileges. I do allow playing even if the work pages aren't complete, but not screens.
This system was inspired by "work boxes" that I saw on some homeschooling websites: the child has one little drawer in which one subject's work is placed. So the child might have a cart with 10 drawers and the parent places the work for each subject for the day in the subject's special drawer.  That is way too much detail and work for me.  But I liked the general purpose: to help the child work more independently and to keep them on track. It has worked marvelously for us.
What has bombed? Project planner pages that I put in the back of the binders. The kids haven't used them a single time. The kids have projects – creative things – they are busy working on all the time and they frequently tell me they need something for the project but I always forget when I'm out running errands. So I thought if I stuck a page in their binders they might make a list at the beginning of the project listing what they need and I could carry the list with me.  Maybe it'll still catch on . . .
Would you like to make a work binder? You only need a binder and the work pages to get started.  Here are some pdf blanks: