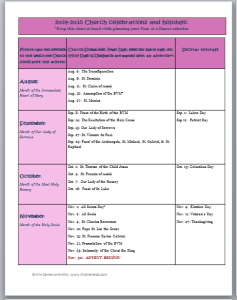 I imagine I'm not the only one tapping her forehead wondering where the summer went.  We've been so busy with camps and traveling that I'm in shock that the new school year is staring me in the face!
I'm running late on my planning for the upcoming year, but here's my free annual planning chart which shows feast days and Holy Days along with secular holidays:  planning reference chart 2014-2015
I use this chart as a snapshot of the school year, so that I can plan meaningful activities and projects for our family every season and month.  Here's a link to my strategy for planning and organizing for the year.