I purchased a bunch of cute little wooden acorns a few years from A Childs Dream Come True (purveyor of truly dreamy art and crafts supplies).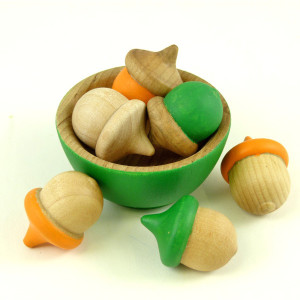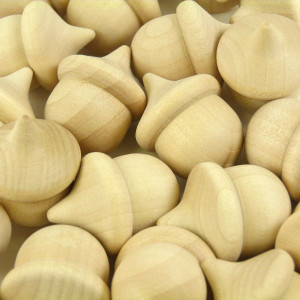 I can imagine so many creative uses for them: ornaments, jewelry, collage elements.  I gave them to Lydia recently and let her decide what she wanted to do with them.  She chose to paint them and place them on our nature table, so I set her up with some acrylic paints and let her go to town.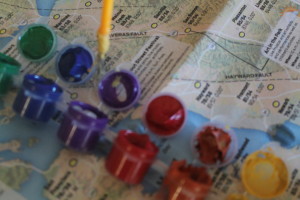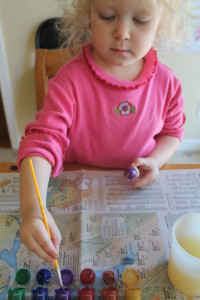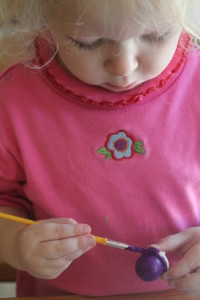 Lydia loved the process and Mom loved the results!  So sweet!
One could do a mini-unit on acorns.
Literature
The Oak Inside the Acorn by Max Lucado (school age kids)
Nuts to You by Lois Ehlert (preschoolers)
Acorns Everywhere by Kevin Sherry (preschoolers)
Science
Learn about trees, leaves, and seeds!  Go on a nature walk and collect leaves.  Using a leaf nature guide, identify your leaves.  Barb McCoy over at Handbook of Nature Study has a whole seasonal tree challenge with tons of ideas.
Here are a couple of books to get you started:
Why Do Leaves Change Colors by Betsy Maestro
We're Going on a Leaf Hunt by Steve Metzger
Math
For school age children:  graphing with  nuts
For preschoolers and kindies:
Use your wooden acorns as part of a math story.  You can make up your own, but here's a suggestion:
"Once upon a time there was a hungry little squirrel.  He want to the first oak tree in his backyard and gathered 3 delicious acorns.  He busily dug a hole in the ground and there he buried his 3 acorns."  Place 3 acorns on a felt square.
"Then the hungry little squirrel, being very diligent and hard working, went on to the next tree in his yard and collected 2 more acorns.  He took them to his acorn hole and tidied them away."  Place 2 more acorns on the felt square.
Ask your child, "How many acorns does hungry little squirrel have now?"  (5)
Then say, "Along came a very lazy little squirrel.  Instead of foraging for his own acorns, he decided to sneak into the hungry little squirrel's hole and steal some acorns!  There in the hole he found 5 beautiful, delicious acorns, and he stuffed 3 into his cheeks and scurried away.
Ask your child, "How many acorns does hungry little squirrel have now?" (2)
And so on.