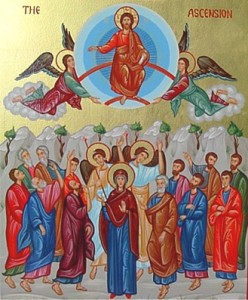 Ascension Thursday is this week!  The Ascension is exactly 40 days after Easter.  On this day we remember the moment when Christ was taken up to heaven in his resurrected body, witnessed by the apostles.  Before he left them, Christ ate breakfast with the apostles and told them that they were to go out and tell the world about his message.   The Ascension, then, marks the moment the Church's mission began.
The Ascension is a holy day of obligation, but in most dioceses the observance is moved to Sunday. Still, our family will celebrate the day on Thursday with a few special traditions.  Some ideas I'm considering:
Ascension Picnic Breakfast:  I found this idea in Mary Reed Newland's classic book The Year & Our Children.  Remembering the fish breakfast Christ shared with his apostles after they had gone fishing, Newland took her kids fishing in the morning and made a picnic for them creek side!  I'm not sure I'll have the energy to find a creek early in the morning, but I plan to make a special breakfast (maybe fish-shaped pancakes?) and set a pretty table in our backyard for outdoor dining.
Gardening: In England it's long been an Ascension tradition to have your garden or land blessed during the days leading to Ascension (called "Rogation Days").  I like the idea of thanking God for the fruits of the earth and the beauty of nature. Just spending time outdoors or doing a little gardening with our children on Thursday is a simple way to introduce this custom.  As I mentioned in my last post, we have a new raised bed so we can have a vegetable garden this year!  I'll do some planting with the kids and pray with them for our garden and chickens.
Crafting: I've been collecting simple crafting ideas for Ascension.  We didn't do any crafts for Ascension last year, but I think my younger kids will love this project inspired by a kit from the Oriental Trading Company.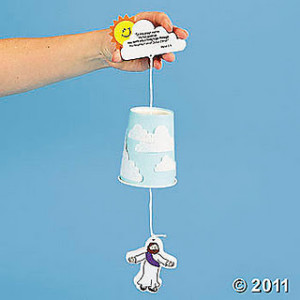 I think the project is do-able without the kit.  We'll just get blue cups, a coloring printout of Jesus and make our own clouds. I also love this creative and inexpensive idea from Ten Kids and a Dog: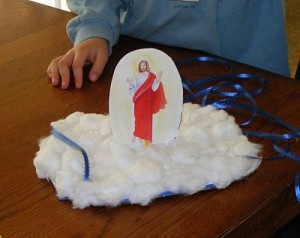 The craft hangs from the ceiling. Neat, heh?  It's just cardboard with cottonballs and ribbon.  Clear in instructions provided in the blog post on 10 Kids and a Dog.