Well, gosh, I haven't blogged on First Heralds for 2 months!  I've been very busy with my other blog, Catholic Attachment Parenting Corner, and also finishing a book proposal.  Aidan is gone this weekend on a scouting camping trip, so the house feels very different without his voice and presence.
I'm thrilled that this year we will finally have a real vegetable garden!  I've been wanting to remove some ugly (truly hideous) solar panels in our pool area, which could clear up a giant space for gardening, but after five years in our home that project has never made it to the top of the to-do list.  So this year I purchased a simple snap together raised bed to place in a sunny spot in our main back garden.  This is the  model I purchased at Home Depot: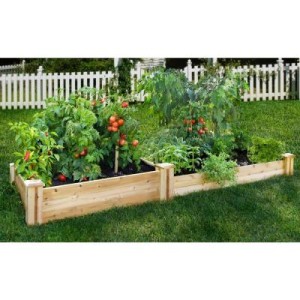 It's cedar and supposed to be rot resistent, but we'll see about that.  The bed comes in 4'x4′ or 4'x8′; I got the larger one which is pictured above.  The bed has two sections, with one section deeper.  You can add on to the beds easily with more kits, configuring the shape however you want.  We're setting up the bed tomorrow!
We're planning to plant tomatoes, summer squash, lettuce, peppers, and herbs.  I'm already thinking I'll want another 4'x4′ kit for our fall garden plans!