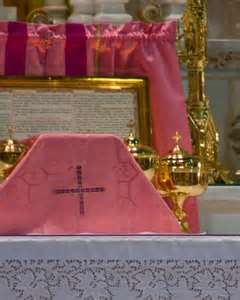 This Sunday is Laetare Sunday or Rejoice Sunday, the 4th Sunday of Lent.  It's sometimes called "Let-Up Sunday" because we get to let up a little on the rigors of Lenten penitential practices.  Parishes can have flowers on this altar on this day and priests can wear rose-colored vestments instead of purple.
Laetare Sunday is a day of hope, with Easter not far off.  We need hope this year, because  we are (it's almost unthinkable) without a pope to lead on us on Laetare Sunday.  I believe our Cardinals will have entered the Conclave by this Sunday.  My family will celebrate Laetare this year but we'll be especially attentive to the gravity of the task before those men.
In the old days in England, young people who were employed or schooling away from their mothers would be given Laetare Sunday off to go home to visit their mothers so this is also known in England as "Mothering Sunday".  Young girls tradionally baked Simnel Cake to show their moms their new skills at cooking.  Last year we made Simnel Cake for a Laetare Sunday tea, and we plan to have it again this year.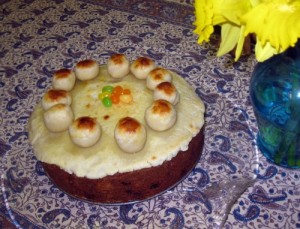 It's kind of heavy, but not too sweet and very pretty.  Here's the recipe I used last year to bake our cake:
******************************************
Simnel Cake
1 cup butter, softened
1 cup light brown sugar
4 eggs
1 3/4 cups self-rising flour
3/4 cups golden raisins or dried currants, or a blend of both
2/3 cup candied cherries, rinsed, dried and quartered
1/4 cup candied mixed fruit peel, chopped
2 tablespoons grated lemon zest
2 teaspoons mixed spice (or pumpkin pie spice if you can't find mixed spice)
1 pound almond paste
2 tablespoons apricot jam
1 egg, beaten
Preheat oven to 300 degrees F. Grease and flour an 8 inch springform pan. Line the bottom and sides of pan with greased parchment paper. In a large bowl, cream together the butter and brown sugar until light and fluffy. Beat in the eggs one at a time. Beat in the flour. Stir in the golden raisins, currants, candied cherries, mixed fruit, lemon zest and mixed spice. Pour 1/2 of batter into prepared pan.
Divide almond paste into 3 equal portions. Roll out 1/3 of the almond paste to an 8 inch circle. Place the circle of almond paste on the cake batter in pan. Cover with remaining cake batter. Bake in the preheated oven for 2 1/2 hours, or until evenly brown and firm to the touch. If the cake is browning too quickly, cover with foil after an hour of baking. Let cool in pan for 10 minutes, then turn out onto a wire rack and cool completely. Set oven to broil. When the cake has cooled, brush the top with warmed apricot jam. Roll out 1/3 of the almond paste into an 8 inch circle and place on top of cake.
Divide the remaining 1/3 of almond paste into 11 pieces and roll into balls. These represent the 12 Apostles minus Judas. Brush the almond paste on top of cake with beaten egg. Arrange the 11 balls around the outside edge on the top of cake. Brush the balls lightly with egg. Place cake under the broiler for 8 to 10 minutes, or until almond paste is golden brown.
*******************
Daffodils are traditionally given to Mom on this day.  Last year we brought daffodils to our next door neighbor, a recent widow.
Finally, I love this little poem by George Hare Leonard because it's from the perspective of the children leaving their posts to visit their moms on Mothering Sunday:
Mothering Sunday

by George Hare Leonard

It is the day of all the year, Of all the year the one day, When I shall see my mother dear And bring her cheer, A-mothering on Sunday.

So I'll put on my Sunday coat, And in my hat a feather, And get the lines I writ by rote, With many a note, That I've a-strung together.

And now to fetch my wheaten cake To fetch it from the baker, He promised me, for mother's sake, The best he'd bake For me to fetch and take her.

The boys will all come home from town Not one will miss that one day; And every maid will bustle down To show her gown, A-mothering on Sunday.

It is the day of all the year, Of all the year the one day; And here come I, my mother dear, And bring you cheer, A-mothering on Sunday.