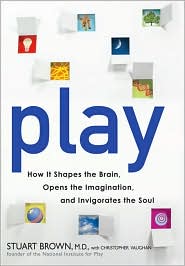 I recently read Stuart Brown's lovely book, Play: How It Shapes the Brain, Opens the Imagination, and Invigorates the Soul.  I found it while searching for books on the importance of play for a child's optimal development, thinking of my youngest child Lydia, but Brown's book in fact addresses the crucial role of play in the mental, physical, and spiritual health of all humans, including us big 'uns. Funny I should be searching for books to improve the life of my child, only to discover I need a little help in improving my own.
His book helped me realize that I sideline play in my own life.  This isn't a problem unique to me.  Parents around the world and across history have put aside their own interests and needs in order to fulfill those of their children.  For the most part, this is a virtue.  The willingness to sacrifice one's own good for the good of others is a sign of Christian character.  But it's still important for moms and dads to prioritize play in their own lives so that they're invigorated in caring for their children.  It's easy for us to become drained and flat.  So play if you can.  I'm trying.
In the past month I've tried to identify how it is that I – KIM – actually play.  How do I become lost in an experience without any thought of outcomes or duties?  How do I feel inspired and refreshed?  The answers surprised me.
I do, indeed, play while writing.  Hello, here I am playing.  🙂  Especially because I write for free and I write on topics that interest me, I find myself immersed in the experience of writing without thinking of the outcome or even what others might think of the product. This surprises me because I always thought writing was my work.  And it is.  But lucky me, my work is also my play!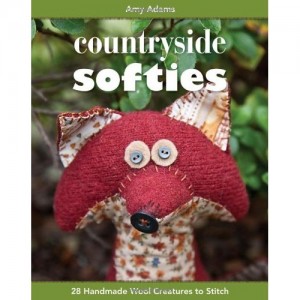 But even more surprising, I have realized that for me crafting is play.  It's a surprise because quite frankly I'm not super talented at it.  I am more at ease with words than with fabric, yarn, or ribbon, but I find creating pretty objects and garments a complete, utter BLAST!   Crafting — especially knitting and sewing — carries me away, calms me, settles my mind.
So recently I've been crafting to play, crafting to live better. Over the Christmas break, Claire and I crafted felted ornaments, tons of them, from the beautiful Countryside Softies book by Amy Adams.   We made butterflies, dragonflies, bumblebees, and more.  Well this got us off and running on a crafting frenzy.
The naturally crafty Claire was inspired to make her own patterns for soft animals and has been busy making an entire farm of pets: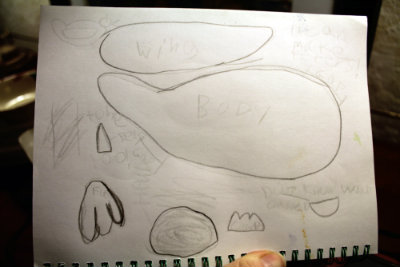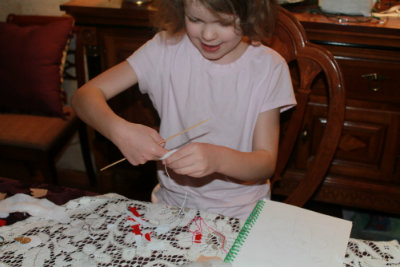 I'm not as adventurous as Claire and stick to patterns and instructions for the most part.  I've started matching aprons for all the girls of house.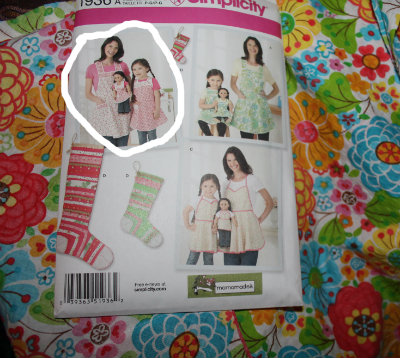 I'm planning to modify the apron slightly to include some fun embellishments on the pockets and some whimsical gathers on the little girls' aprons.  And I made my birthday boy, Dominic, a felt birthday crown (shhhh . . his birthday is tomorrow!).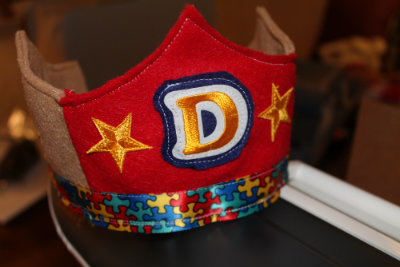 It was such fun and so easy to make.  I got the idea from Amanda Soule's book The Creative Family, but I also found inspiration on-line.  Dominic's completed birthday crown led to oo's and ah's from the girls, so I've now planned crowns for them, too!  I'm excited to try machine applique on the girls' crowns.
We also received an order of beautiful wool yarn and I'm trying to decide what our crafty hearts will dive into: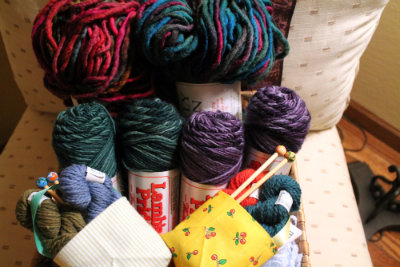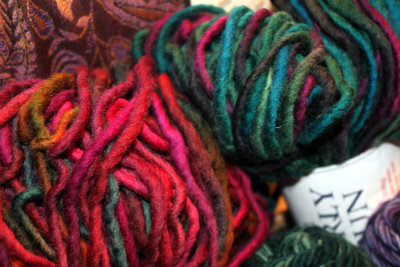 I'm thinking cozy socks and Claire is thinking more stuffed animals!  I wear socks like slippers, so I'm dreaming of big fluffy soft socks to walk around in as the winter months fade.  I saw this book by Betsy McCarthy, all about knitting socks!!
It really doesn't matter what we do with the yarn.  As long as we're playing and living.  Maybe we can make socks, then make stuffed sock animals from them. 🙂
And look, while I play, there's Claire playing with me.  I parent while I play.  Without giving it a thought.  How divine.