Daisy had her puppies 2 weeks ago today and we're enjoying watching the puppies and witnessing Daisy being such a wonderful mommy to them!  Daisy went into labor during the night and Claire woke up, hearing me fussing around in the master bedroom getting things set up for Daisy.
Claire ended up staying up with me all night and witnessed the births of all four puppies. Claire kept a journal, documenting all the changes she was noticing in Daisy during labor and during the delivery of the puppies.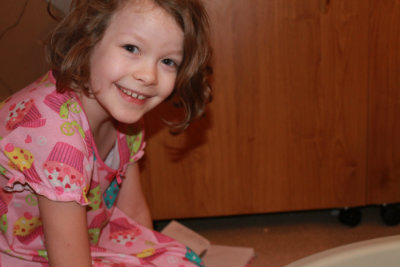 It was difficult to see Daisy uncomfortable and confused for many, many hours.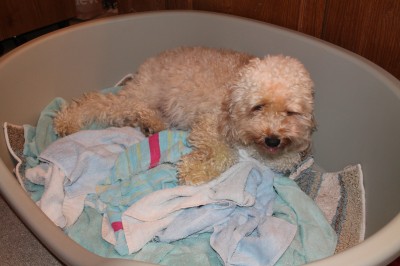 But the watching and waiting was worth it.  Witnessing the first puppy being born is something Claire and I will never forget, especially given we had been waiting for hours!  Claire and I first saw a little paw presenting and we hugged each other, we were so happy!  The puppy was born about 45 minutes later.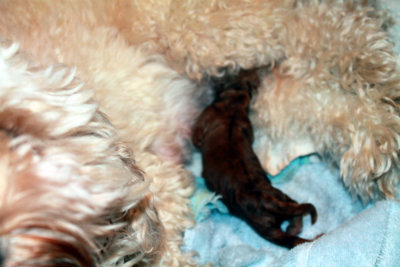 The puppies are born still in the placental sac, and the mother chews it off the pup and cleans them up.  It's extraordinary.  We had to do very little, other than helping one puppy who was having a hard time breathing at first.
Daisy delivered 2 boys and 2 girls, all very healthy and growing by leaps and bounds!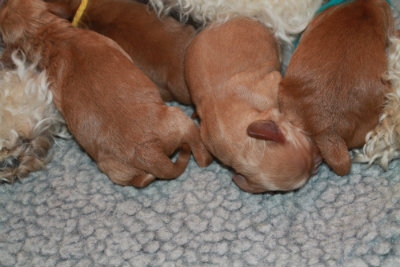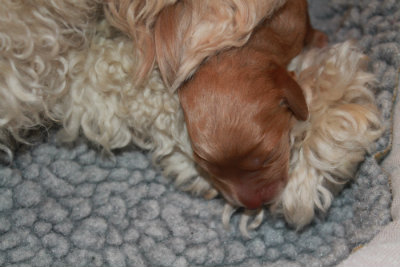 Claire has been keeping a log of their growth and developmental changes.  Caring for animals is something that comes to her naturally and we can see that the experience with Daisy and her puppies has changed her.  Lucky for us we get to do it a few more times!