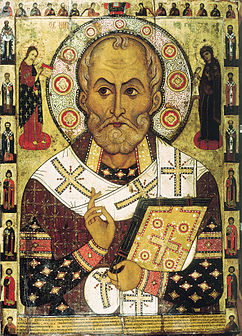 Tomorrow is the Feast of Saint Nicholas, the real Santa Claus.  Here's a link to a whole website about St. Nicholas, including background on Nicholas and activities to make the day meaningful.
St. Nicholas was orphaned at a young age, and went on to grow in faith and became a priest.  He spent his entire inheritance helping the poor and needy.  My two middle children are already becoming more focused on acquiring than giving during Advent.  Reading to our children about St. Nicholas is a great way to counter the gimmes during Advent.  A few of our favorites:
The Legend of Saint Nicholas by Demi
The Miracle of Saint Nicholas by Gloria Whelan
I'm planning to keep the day causal, but will do a few crafts with the kids.  Lacy at Catholic Icing has a cute idea for Saint Nick paperbag puppets for the littlies.
Have a great day!