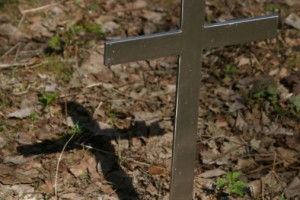 November 2 is All Souls Day, the day we honor and pray for all those who are with God or are preparing for heaven.  In fact, the Church devotes the entire month of November to All Souls.  Many parishes provide some way for us to remember our loved ones this month, either with special altars, displays of photos, or memorials.  It's fitting that Veterans Day falls in the month of November (on the 11th).
I've never done much to observe All Souls in our home.  With Thanksgiving, Advent, and Christmas around the corner, All Souls was never on my radar.  However, I think it's important in my home that part of our works of mercy includes praying for and remembering the dead.  I've been reading about the prayers and traditions associated with the day.  Many families visit the graves of family members in November, create displays of photos of departed loved ones, and say special prayers for them.  Here's The Prayer for Souls in Purgatory:
O Lord, who art ever merciful and bounteous with Thy gifts, look down upon the suffering souls in purgatory. Remember not their offenses and negligences, but be mindful of Thy loving mercy, which is from all eternity. Cleanse them of their sins and fulfill their ardent desires that they may be made worthy to behold Thee face to face in Thy glory.  May they soon be united with Thee and hear those blessed words which will call them to their heavenly home: "Come, blessed of My Father, take possession of the kingdom prepared for you from the foundation of the world."
I'm still hunting for appropriate books for children on the topic of death and All Souls, so my plans aren't finalized, but I'll definitely be placing photos of my father, my husband's grandparents, and my great-aunt on a special altar this month. I think I also have a photo of my paternal grandfather.  I think children especially benefit from the impact of seeing "their people" placed together in a photo memorial like this, even if they've never met their relatives.  My children never met most of their grandparents and great-grandparents.  I think there is definite loss in this missed experience.
My Great-Aunt Irene died several years ago and is buried in a cemetery about an hour and a half away.  Aidan and Claire knew her for about a year before she died.  Aidan remembers her well.  I plan to make a trip in November with the children to visit her grave.  I'll explain to them the importance of loving our family and friends by praying for them, especially after they've died. 
I'm not sure how the kids will respond, what sort of questions might arise about all this, but I'll take it a step at a time.  The children in my Faith Formation class started bringing photos of their departed loved ones this week for our Faith Formation All Souls Altar. I was touched by their little stories about the photos.  I think even if my own children have never met some of their relatives, knowing stories and experiences of these people strengthens their identity and sense of personal history. I love hearing Philip tell my children stories about his grandparents.  They were very colorful, interesting people.
And of course when we take the time to create these memories for our children, we are helping them write their own life narratives.