As these things happen, probably the most memorable part of our Gold Rush family trip will be the rain.  We planned for a down day on Wednesday to get some rest, do laundry, reorganize ourselves.  It turned out to be a nasty, rainy day that turned into an even nastier rainy night.  I generally love the sound of rain on the roof when I sleep, but when there's only a piece of fabric between your family and serious discomfort the sound of rain is threatening!
Philip volunteered to cook in the rain "because you haven't camped until you've eaten in the rain."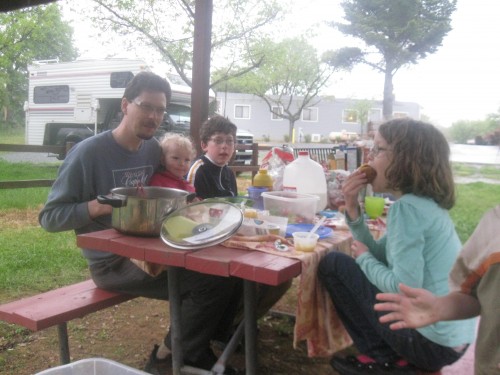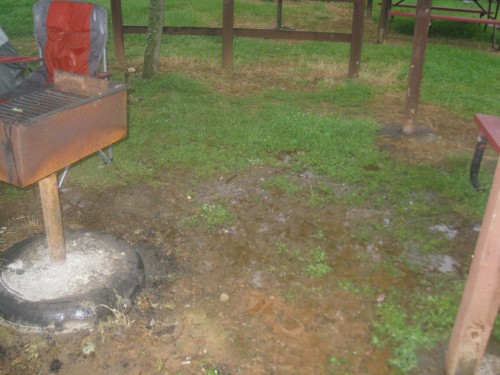 During the night rain leaked into our tent in several places and by morning we had puddles.  We were cold, wet, and uncomfortable.  My asthma started acting up and I hasn't slept much of the night.  I was weary and thinking we should call the trip rained-out, but thank goodness Dad and Aidan encouraged me to soldier on as the weather forecast was bright.  Late Thursday the weather finally improved. Phew!
Old Town Auburn
We spent an afternoon in the Old Town Auburn which offers several small museums and historical sites.  Warning: everything closes at 4!!  I was hoping to see the Historic Bernhard home, an 1890's Victorian farmhouse sitting on 2.3 gorgeous acres.  It's one of the oldest framed homes in the Sierra foothills.  I was only able to see the home from the outside as we arrived after closing.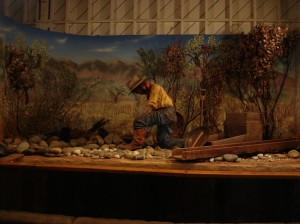 Our favorite Old Auburn treat was the The Placer County Gold Country Museum which interprets Placer County's Gold Rush history. There's a replicated hard rock mine, a stamp mill (a big mill for crushing stuff), and an assayer's office (the place where the value of a bit of gold was determined).
The museum also offers small exhibits of a miner's cabin and a mining camp saloon.  The museum docents were very enthusiastic and eager to share information with our family.
Old Sacramento and the California State Railroad Museum
Sacramento itself is significant for Gold Rush enthusiasts because John Sutter's Fort was built here.  A recreated site still exists in the middle of town.  Old Sacramento is a charming, little part of Sacramento, bustling with activity and restaurants.  Before I went to college near Boston, I worked briefly at a now defunct savings & loan in downtown Sacramento, very near Old Sacramento.  I frequently ate lunch with co-workers in Old Sacramento, so it's always fun for me to return to these old haunts. 
Here are a few of my photos of Old Sacramento, which features several sites of historical interest from the time of the Gold Rush and Transcontinental Railroad.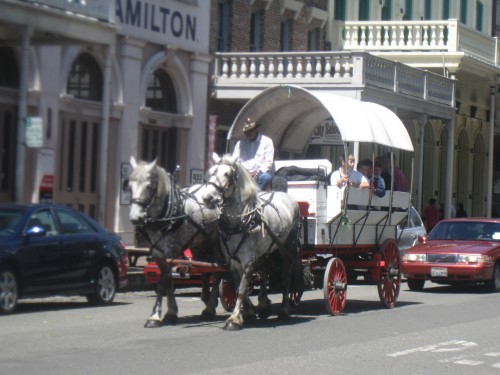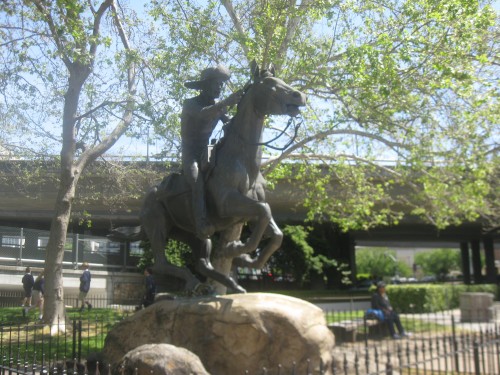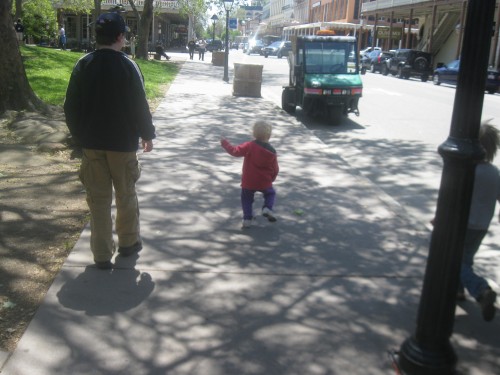 Certainly for Dominic, the highlight of the day was the California State Railroad Museum, which houses 21 restored trains and cars, many open for the public to walk through.  The museum itself consists of some original buildings and some beautifully reconstructed ones. 
The Museum always offer a special exhibit.  When we visited, the exhibit was of "fruit crate art".  I never thought much about the adverts on the side of old fruit crates 'til I got a load of the crates at the museum.  Now I'll be on the lookout!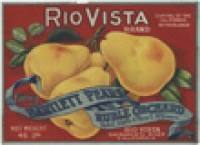 We walked through a sleeping car, postal train, and a beautiful dining car: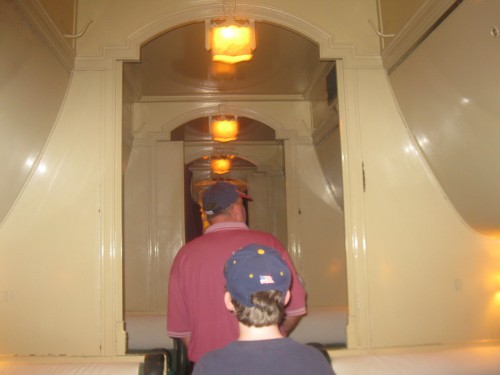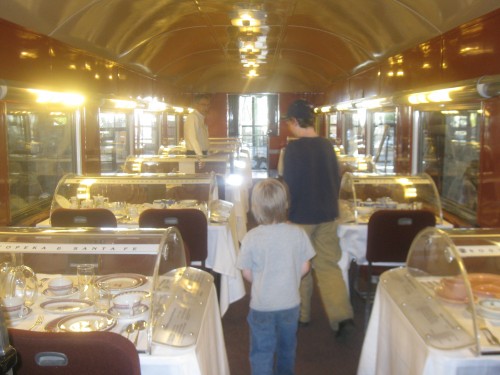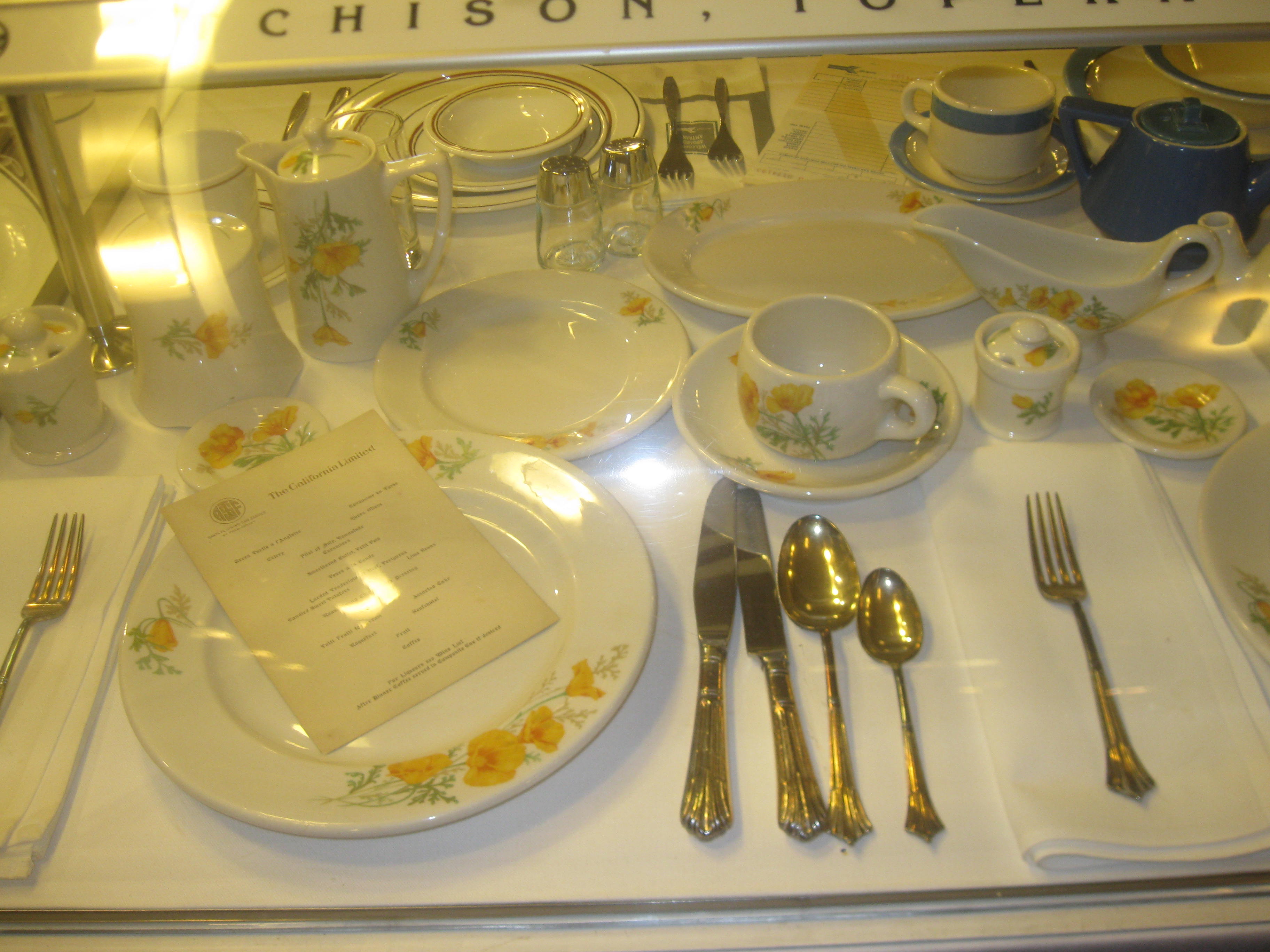 I couldn't help feeling it was all so romantic!  The trains were elegant and so much attention was given to detail and style: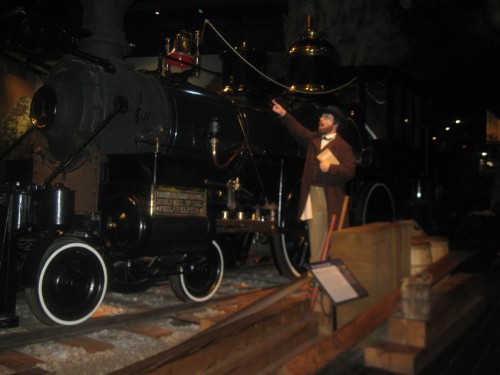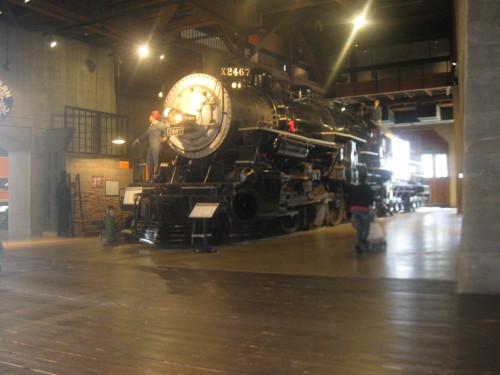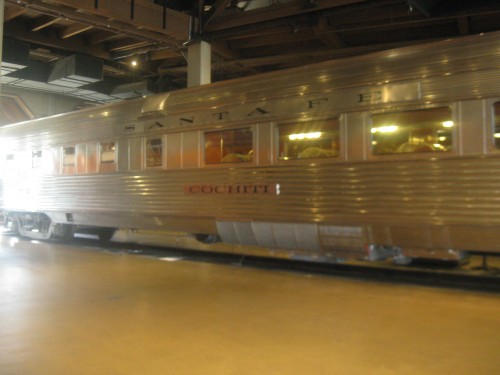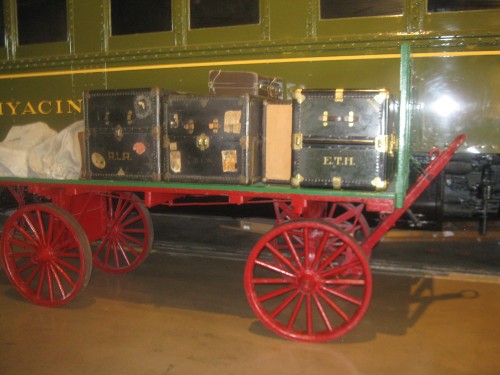 Well maybe it's only romantic to me.  I guess if it was my only mode of transportation I might have a different view. 🙂
Philip and I were glad to get back home, but I think of the many sites we didn't get to visit, like Sutters Fort, the Bernhard home, and several of the ghost towns.  I'm looking forward to a future excursion already!