Easter morning!  We remember today the Risen Lord and we rejoice that his suffering ended in triumpth.  I think of how that morning after Christ rose might have felt the same to folks, just like Easter morning today felt the same as any other day in so many ways.  Kids get sick, our coffee makers drip, the dog wants to go out, the weather is the weather like any other day, blah blah blah.  
But the Resurrection is anything but ordinary.  The world may have looked the same that day 2000 year ago, but it was renewed and transformed.  That day signaled hope just as today does for us.  No matter the illnesses we face, the struggles we endure, we can live with hope.
Our home was certainly filled with joy and energy this morning!  The weather was spectacular here in Northern California.  My ornamental cherry tree is blooming in my front garden and my rose bushes are turning a deep maroon.  We can't forget the treats:  Goodies were waiting for the littlies when they awoke, and they were so excited!  Mom didn't get her coffee until way too late — YAWN — but it was worth it to sit and watch the kids enjoying the morning.   
A few photos of Lydia's Easter outfit, finished only at the last minute but so cute: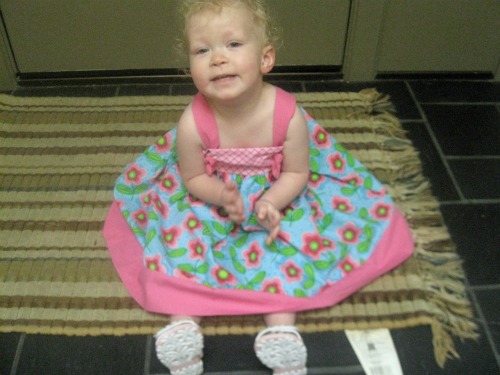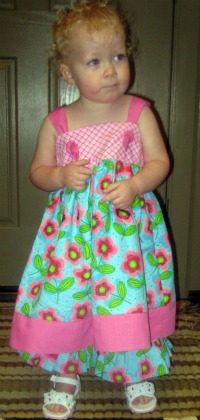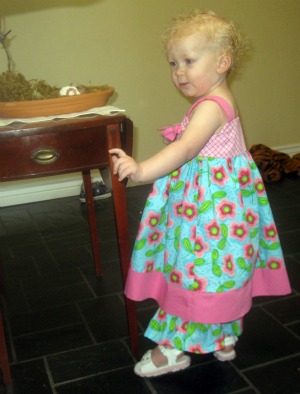 I found a white shrug sweater on clearance for her to wear at Easter Mass: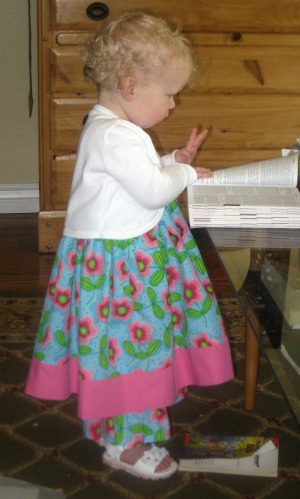 And like other wise parents, I grabbed a snapshot of the kids before they smudged their clothes with chocolate, dirt, or other oozy substances.  One 6 year old was very uncooperative and thought the whole idea of dressy clothes and cameras was absurd: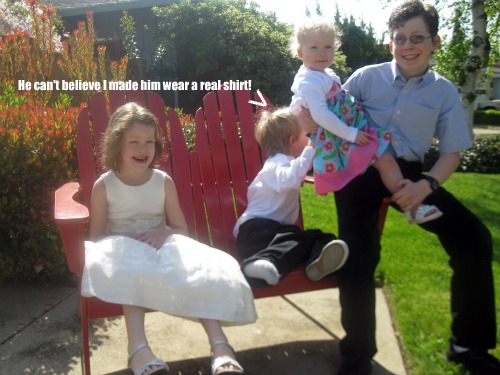 We spent the afternoon at a friend's home with a group of at least 20 kids and their parents, surrounded by good food, conversation, laughter, and joy!  We are all now wonderfully exhausted and grateful for the day. 
Hope your day was memorable, too!