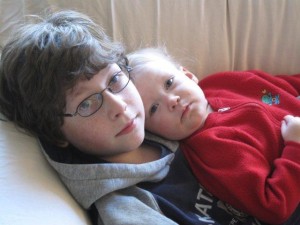 I've been so busy with life and my various projects that I only posted 4 times on First Heralds in February!  As I type here, I feel comforted seeing the faces of my babies especially as I ponder the stories in my mind that I never shared last month . . .
Or even this past week . . . like when Lydia took her first ride in an ambulance after a bad fall from a chair (which turned out to be nothing worrying).  She charmed the doctors and nurses wearing a frilly lavender nightgown and leopard print coat.  It reminded me of a time long ago when Aidan was her age and he had pneumonia.  He was in the hospital wearing the tiniest hospital gown I had ever seen.  It made me sad that they needed to make tiny hospital gowns for tiny patients.  Thank goodness our Lydia never made it to the hospital gown stage!
One thing I enjoy about blogging is the way it captures my children's growth and their little moments that might otherwise slip through the cracks of time and memory; those little moments which make such an impression on me even though they may seem insignificant to others.  The stuff mommies notice.
I think of my darling boy Dominic at Mass on Ash Wednesday.  He seemed so tuned out.  He was quite disruptive and even fell off the pew once.  Another time he was lying down on the pew with his head dangling over the end into the aisle.  I was embarrassed.
On the way home he said, "Mommy I said a secret prayer."
"Oh," I said, "What was it?"
"I can't tell you because it's secret.  I went into that little room like the guy told me to."
I was stunned.  Truly stunned.  The Gospel reading had been from Matthew 6 and it read in part, "When you pray, do not be like the hypocrites who love to stand and pray in the synagogues and on the street corners so that others may see them.  Amen, I say to you, they have received their reward.  But when you pray, go to your inner room, close the door, and pray to your Father in secret.  And your Father who sees in secret will repay you."  The homily was about finding our inner rooms for prayer during Lent, and doing it quietly, with reverence and humility.
Dominic heard it.  Most extraordinary, he understood that message on some level.  He had made his secret prayer to his Father; that precious prayer of a child.  Goodness me.  I guess something was going into the dangling head.
Lydia is becoming theatrical.  She stands in front of us and sings.  She really sings, full throated and loud, her tiny mouth exaggerating her vowels like real singers.  At the end of her song, she asks us, "A-den? A-den?" ("Again, Again?")  So darling.
I'm glad I have time to stop and pay attention to my children, to really tune into what they're saying or trying to say.  I'm glad I have time to watch them in silence, to notice the way they're changing.
I wish I had even more time.  I was at a knitting fair over the weekend and saw some darling patterns for baby things, and realized I have no babies to knit for.  And no babies coming.  I wish I had had time when my babies were small to sew and craft the things for them that I dreamed of, but that's the nature of living with a babe – we have so little free time.
As Lent proceeds, I want to do a little better balancing my time.  I've been very much in my head researching articles for the new attachment parenting website.  Building the website is like play for me, especially writing the articles.  But I want to make time for other things.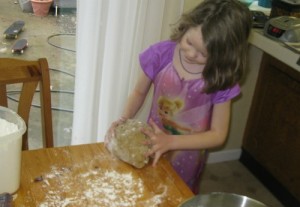 Time to get my hands into the garden dirt.  Claire wants to plant potatoes in a container and I want to try making the kids a sunflower fort.  I also want to move some stuff in the garden and now is the time to do it.
Time to get my sewing machine humming.  I had planned to sew Lydia an Easter dress, and darn it I'm going to do it!  I don't have a baby to knit for, but I have 4 kids I can knit and sew for, don't I?  This weekend, I'm off to the sewing store to get my fabric.
And finally, I want to make more time to go to that inner room, to say my secret prayer like Dominic did.