Let us say so clearly:  Lent is the path towards the  joy of meeting with the risen Christ.  Lent must leave a strong and lasting mark on our lives.  It must renew in us our union with Jesus who speaks to us of the need of conversion and shows us the way to reach it. "Penitence" in Gospel means "to be converted".  Pope John Paul II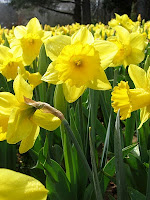 I never got around to posting about my darling Dominic's birthday (a big boy of 6 now!) or about our Candlemas candlemaking party, but Ash Wednesday is only a week away, so my mind turns to the great season of Lent.  In traditional Christian churches, including Catholic, Lutheran, and Episcopal churches, Lent is a period of penance leading up to Easter, when we celebrate with joy the risen Christ.
Why not create your own Lenten family traditions?Even though Lent is a season of penance for Catholics, we don't have to make it scary and dreary for our families!  I'll be posting ideas as we get further into Lent for Mothering Sunday and Holy Week, but here are a few simple ideas for making the start of Lent meaningful for our children:
Pancake Tuesday:  On the Tuesday before Ash Wednesday, Catholics traditionally used up all their eggs and butter because these foods were prohibited during Lent.  (This prohibition is no longer in place.)  Long ago, families would get together for festivities over a pancake supper.  Town traditions even developed around Pancake Tuesday — whole carnivals with pancake tosses and races.  In our home, we will have a traditional Pancake Tuesday next week, with homemade wheat pancakes, sausage, fruit, and lots of games & fun.
Stations of the Cross:  The Stations of the Cross (or The Way of the Cross) are a series of paintings, statues, or images that recount specific scenes in the Passion of Christ. The purpose of the devotion is to visit the scenes of Christ's passion, meditating and praying.  There are typically 14 scenes.
Most parishes have a community Stations of the Cross during Lent, but you can bring this tradition into your home, too.  For my younger children, I would like them to understand the spirit and story connected to each Station.  I'm planning to use the beautiful book The Story of the Cross:  The Stations of the Cross for Children to introduce each of the stations.  The book has wonderful illustrations and short prayers after each station.
With Aidan, who is 13, I will begin sharing with him the importance of meditating at each Station.  I'll read with him The Way of Cross by the great spiritual writer Caryll Houselander.  I have a special place in my heart for Houselander because when I returned to the Church while living in England many years ago, I used her wonderful little book "Praying the Rosary" to understand the devotion better.  Her own poetry is presented after each decade.  It's still my favorite Rosary book!
I'm planning to try to pray the Stations once a week with our children.  This year we will light one small candle for each Station (if we get our act together we may make a homemade candelabra), then after reading about the Station in the book and saying the prayer, we will extinguish one light.  I think it will be so moving when we reach the last station and read about our Lord's death, and then we extinguish that final candle.
Family Almsgiving: Almsgiving is one of the 3 important practices of Lent (along with prayer and fasting).  Many people donate personal goods or money to charities during this time, or they donate their time through acts of service.  Families can decide together before or early in Lent how they would like to show their Christian charity.  We haven't decided yet what our almsgiving plan will be.  We could volunteer at shelters or soup kitchens, work as a family to clean the home of somebody in need, or bring homebaked goods to a nursing home.   I saw a darling almgiving craft for small children on the blog "Icing on Your Catholic Cake" www.catholicicing.com.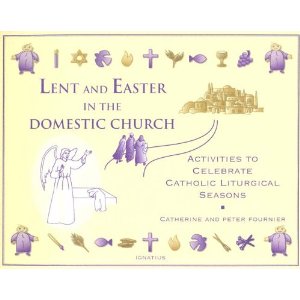 If you are looking for more ideas for Lenten family activities, check out the spiral bound book by Catherine Fournier: Lent and Easter in the Domestic Church.  I don't own this book yet, but I keep eyeing it at my Catholic bookstore.  It has ideas for creating a family altar, a Marian garden, alms boxes, and lots of recipes.