The kiddies are getting very excited about Christmas!   Philip's parents are here already and his sister is arriving on Friday with her husband and new baby boy.  (I can't wait to smooch his gorgeous cheeks!)  We anticipate a weekend filled with yummy food, laughter, and music.
Today, Claire and I felt even more festive after making our own Christmas gift wrap out of potato stamps and craft paper.  We embellished the potato stamps with sparkly markers after the paint dried.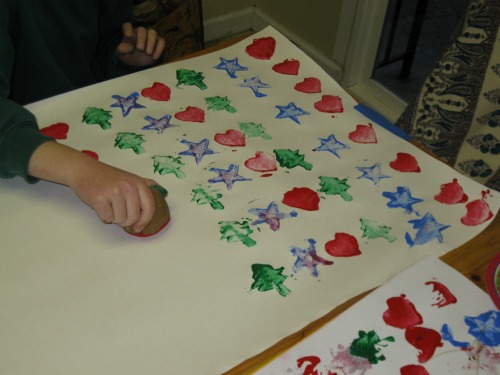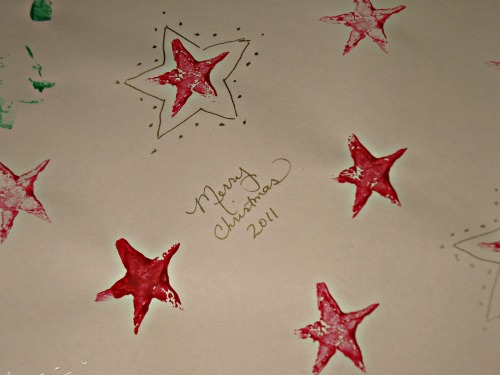 Here's what you need:
Potato & knife
Roll of craft or postal paper.  We used this one from Ikea — $5 for a huge roll.
Craft/tempera paint
DecoColor Liquid Gold and/or Silver Paint markers for embellishments (available at craft stores)
Instructions:
1.  Make your potato stamps.  Cut a large potato in half.  Draw very simple images with a pencil or marker on each potato half.  Stars, trees, and bells work well.  With a sharp knife, trim around your image creating a raised stamp.  I did the trimming for Claire, but an older child would be able to do the carving themselves with supervision.
2.  Dip your stamp in paint.  We got rid of excess paint on a piece of scratch paper but that's optional.  Here's a blurry (sorry!) photo of one of our stamps: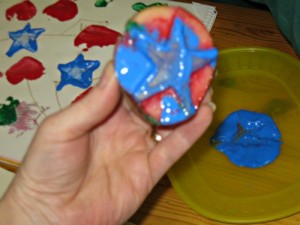 3.  Stamp your craft paper lightly with your stamp.  Continue to stamp with the same or different stamps until you've covered your paper.  We made several different stamps and Claire made a uniform, balanced design on her wrap: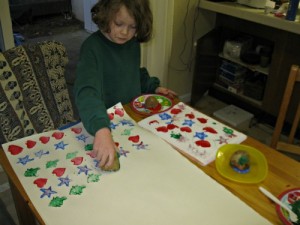 4.  If you wish, embellish your creation after the paint dries on your wrap.  We used DecoColor gold and silver markers to outline our stamps.  We also wrote messages like "Merry Christmas 2011" and "A Family Christmas 2011" with our markers.  You could also use colored pencils, crayons, etc. to add to your wrap.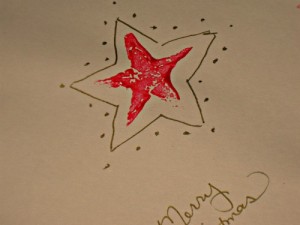 Claire and I had a blast!  We're already thinking about using other vegetables to make gift wrap.  A fun and personal way to present a gift to somebody special.