"A shoot will spring forth from the stump of Jesse, and a branch out of his roots."  Isaiah 11:1.
We've been so busy the last few weeks getting settled in with Daisy, our new dog, we've hardly had time to think of anything else, especially Thanksgiving.  AAAAH!  I still have autumn activities I want to show the children, especially some cute little acorn critters I saw in a book similar to these: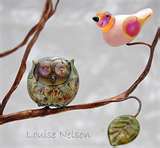 C'mon, don't they make you want to smile. 🙂
But my mind already drifts past Thanksgiving to Christmas plans.  Advent begins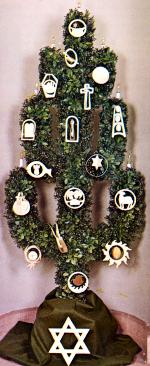 just a few days after Thanksgiving this year, on November 27th.
This year I'm excited to introduce a new tradition into our home:  the Jesse Tree.  I appreciate so much the importance of family traditions, and Catholics are so lucky to have a rich history of traditions to draw upon.  We can bring those traditions home!!  Just as Church tradition grounds our Catholic identity, family traditions create a sense of history and identity, a sense of belonging and commitment.
So what's a Jesse Tree?  Jesse was the father of King David, from whom Jesus Christ descended.   The modern use of the Jesse Tree probably comes from historical representations of "The Tree of Jesse" — the family tree of Christ depicted in art, often in stained glass and in illuminated manuscripts.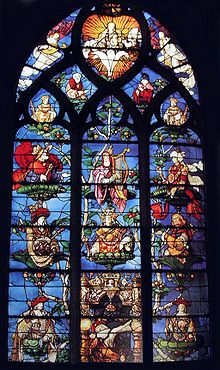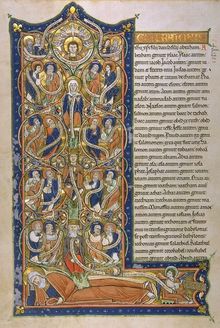 Nowadays the Jesse Tree is basically a tree (a miniature real one or a flat paper or felt tree) with meaningful ornaments added during Advent.  The ornaments build the story of salvation history beginning with Creation through to the birth of Christ.   Each day you read a scripture passage and add an ornament.  So on the first day you read the story of Creation and add your Creation ornament, and you continue in this manner each day until Christmas.
The story told through the Jesse Tree reminds us of the patient goodness of God and the great hope of Advent.  As the children add the ornaments, they learn the history of Christianity, and in turn they better understand the true meaning of the Season:
we await a Savior. Oh yes.  We await with gratitude and awe.
Here are some photos of different Jesse Trees: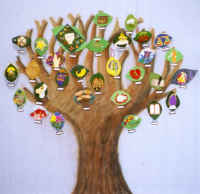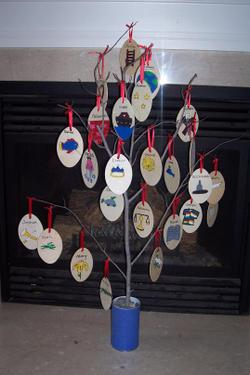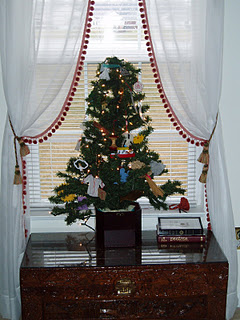 To bring this tradition home, you need 1) a Bible for the  Scripture readings, 2) a tree and 3) the ornaments.   It can be as simple or complicated as you want.
I had read a bit about Jesse Trees before, but I feared we would run out of steam making our ornaments and never finish by Christmas.  So this year I'm taking the simple approach:  We'll use a small evergreen and we'll make our own ornaments using these free patterns.  Our ornaments will just be paper glued onto felt, but you can sew your own ornaments or even purchase very fancy exquisite pre-made ones.
Links to resources:
KITS:  If you purchase a Jesse Tree kit, then you'll have everything you need.  Pauline books has a kit with a poster tree and paper ornaments for the children to color.  It provides daily scripture readings and the background of the Jesse Tree tradition.  If you can't find it at your local Catholic bookstore, you can order it through Adoremus books.
DO-IT-YOURSELF:  If you want to make your own, you can find instructions and
patterns on-line for ornaments.  Next year I'm planning to use my embroidery sewing machine to make our ornaments to use with a felt tree.  Yay!  Here are a few resources to get started:
Suggestions for daily symbols and scripture readings:  Faith Magazine
Ornaments for kids to color with scripture readings: OCA
Here's the link again to the paper patterns and resources I'm using: Diocese of Erie
If you have an embroidery sewing machine, Sapphire Stitches sells a pattern to make your own ornaments:  Sapphire Stitches.  I think they are too monotone for some tastes, so I'm searching for other vendors.  You can always choose your own thread colors for the Sapphire patterns.
Let's get started!
11/24/11 RESOURCES UPDATE:
Deborah in Australia makes adorable Jesse Tree Ornaments at a very reasonable price.  They are homemade and only $5 to ship to the US:  http://www.etsy.com/shop/acupofjoy
I found this little book, The Jesse Tree: Stories and Symbols of Advent, for $6 on Amazon.  It has readings for each day of Advent along with a beautiful image of the symbol of the day (which you can cut out or photocopy to use as your ornaments).  The book also offers discussion topics.