Our Apple Learning Block got off to more of a cough than a bang because the kids have been sick, but we did enjoy making homemade applesauce on Thursday after reading a few of the books on our reading list about applesauce and apple trees.
I've never made applesauce before.  Can't believe how easy it is!  We used a basic recipe from a Better Homes & Gardens Cookbook, but we tweaked the recipe with suggestions from some of the books we've been reading.
We used a variety of apples in the sauce and added some lemon juice for heightened flavor.  Here's our basic recipe:
♥
Kim's First-Stab Applesauce!
6 lbs apples (choose 3 different varieties of cooking apples; we used Granny Smith, Golden Delicious, and Fiji)
2 cups water
2/3 – 3/4 cups sugar
1/2 teaspoon ground cinnamon
2 tablespoons lemon
1. Peel, core, and quarter apples. 
2. In a large pot combine all ingredients.  Bring to a boil; reduce heat.  Cover & simmer on very low heat for 2-3 hours.  Add water if necessary. 
3.  Remove from heat.  Mash mixture with potato masher for chunky sauce or puree in food processor for smooth sauce.  Serve warm or chilled.  May be frozen. 
♥
Only Aidan was initially interested in helping with the preparation, but as soon as Dominic saw Aidan using a new apple corer, he wanted to give it a try too.  Here's Aidan coring next to our gorgeous bowl of peeled apples:
Here's our pot before we turned on the burner: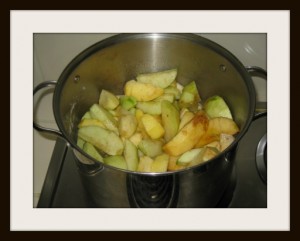 I left the pot on very low for 3 hours or so – until the apples were super mushy. You can either mash applesauce with a potato masher to get chunky style applesauce or you can put in the food processor for very smooth sauce.  I made both kinds: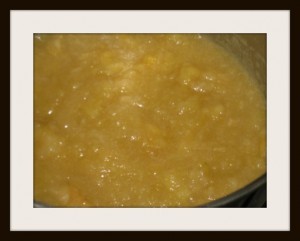 Our sauce was too sweet for my taste, but the kids devoured it.  They all said it tasted like apple pie.  This would be a good dessert applesauce.  You can reduce the sugar content and serve your sauce with savory dishes.  I served mine with turkey breast and it was a nice accompaniment even though the sauce was on the sweet side.
Okay, now I'm obsessed with applesauce.
Those who know me won't be surprised by this because I can never do anything just a little bit!  I've been researching all sorts of applesauce variations, including sauce made with maple syrup instead of sugar.  I am very intrigued by this one for rhubarb applesauce.
The best part of our applesauce making came the following day when I used it to make an incredible applesauce bread that knocked my socks off: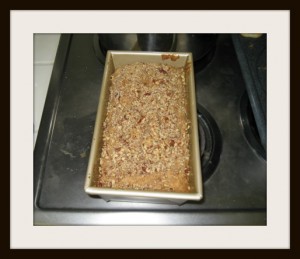 I will be blogging about my applesauce bread for a "real foods" linky party on Friday!
[10/18/11 Update: My blog was hacked on Friday so I couldn't join the real foods linky party!  You can download the recipe here: APPLESAUCE BREAD.]