Five months ago we were fostering 6 new baby chicks for a local farmer.  We got them when they were only a few days old.  So cute!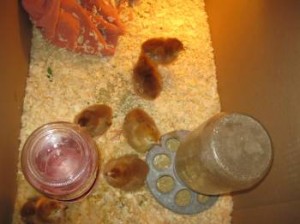 A few months later it was time to take them back to the farm, but we were in love with them, so the farmer let us keep 2.  So Sunshine and Frenzy spent the summer getting bigger and fatter, and watching us build their coop.  The kids all enjoy watching the chickens be chicken-y.  They're very entertaining!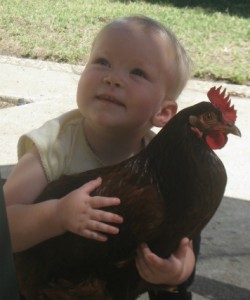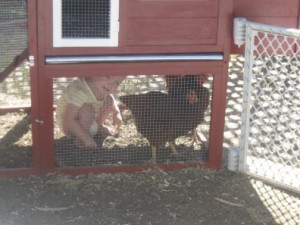 The chickens roam freely in the yard during the day.  In addition to their chicken feed ration, they feast on bugs in the grass, weeds, and yummy bits we feed them from the kitchen like yogurt, veggies, and grapes (their favorite).
We finally finished their coop a few weeks ago, just in time for their first eggs!  We got our first egg right next to their food bowl last week, then they started laying in our big eucalyptus tree instead of their coop.
Here's Frenzy sitting in the leaf debris squawking up a storm.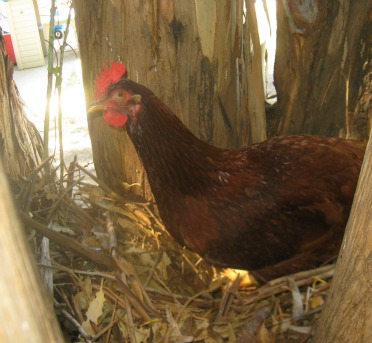 When I first heard her screaming in the tree, I thought she was stuck, but then I read about a very distinct squawking the hen will make when she's laying eggs.  We were all very excited!!  We can't tell if this squawking is her way of saying "OUCH!" or "LOOK AT ME! I'm a big hen now!"  But there's definitely something important happening, as was evident that first day we watched Frenzy in the tree.
The kids all stood back and watched her until she hopped calmly out of the tree and wobbled to the water bowl.  We poked our heads into the tree, and there it was: a perfect, gorgeous little egg: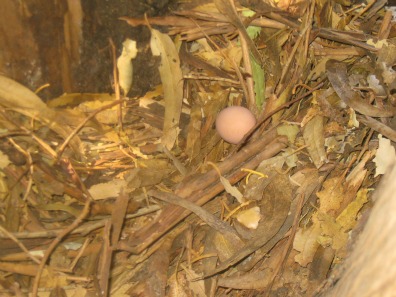 Their eggs will get bigger as they mature.  Sunshine is now laying in the tree, too.  Sunshine and Frenzy are Rhode Island Reds, so they are very reliable layers.  They are laying one egg each a day.  That'll give us over a dozen eggs a week.
Here they both are, feeling proud of themselves after laying their morning eggs: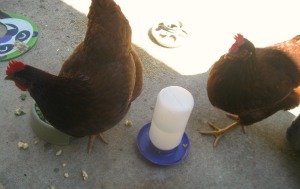 Yesterday we made pancakes with their eggs, and today I'm making potato salad.  If you've never tasted a fresh egg from a true free range hen, you have to have one.  They are delicious, and the yolks are almost orange because they are so nutrient dense.
We know, chickens aren't very cute like a kitten or a dog, but we love having chickens. It's been fascinating learning about chicken language and taking care of them.  And now they give something back in return every day!