Finally!  I actually know how to do picture studies with my family.  Simply Charlotte Mason (SCM) has released their new Picture Study Portfolios and I love them!
I've tried doing picture studies or art appreciation with the children in the past.  When we were doing a classical approach, I purchased a popular (and expensive) children's art appreciation program.  It required sorting dozens of small art postcards, organizing them into little color-coded labeled pouches, and watching a DVD just to learn how to use the program.
I was overwhelmed.   It was way too complicated.  That program remains unused, collecting dust in my homeschool closet!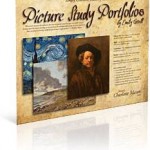 On Monday I received two of SCM's newly released Picture Study Portfolios, authored and arranged by Emily Cottrill.   I opened our Rembrandt and Velasquez kits when they arrived in the mail at 11 a.m.; I read the introduction to Rembrandt and looked over the gorgeous prints; we had lunch.  At 1:00 we did our first Rembrandt picture study.  We started with Rembrandt's "Doubting Thomas".  Now this is a serious painting.  No kiddie stuff here.  Not only did the children love it, but I did as well.  We are already talking about Rembrandt like we know him personally!
Not only are these kits easy to use, but they have other unique features:
Each Portfolio comes with 8 full-size (8×10) prints – no tiny postcards!
The prints are on good quality paper –  feels like a glossy cardstock.
Each print is loose.  This is my favorite feature.  Now the children can hold the prints and really look at them.  After our first study on Monday, I hung the print on the wall so we could live the painting all week.  You can't do that with a bound art book.
Each Portfolio comes with a short book which contains 1) very clear instructions on how to implement the studies, 2) a short introduction on the artist, and 3) discussion points for each of the 8 prints included in the kit.
They are affordable!  $15 per kit!
I really liked the suggestion in the book for how to introduce the prints.  Instead of revealing the name of the painting before they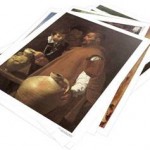 study it, you wait until after you begin discussing the painting as a family.  My children really enjoyed this approach.  Aidan said that not knowing the name of the painting made him feel like a detective trying to solve a mystery. He searched the details of the painting to discover as much as he could about the story it was telling.  (He was able to identify the painting correctly!)
The introduction to the artist was very helpful in preparing us for the study.  We read this prior to looking at the first painting.   Because we had just read about Rembrandt's use of light in his art, Claire noticed the light around Christ's head against the darkness of the background.  She was also very curious about John in the righthand corner of the painting.  She wondered whether he was sick.
Each of the children was struck by different things, and I found this fascinating.   Of course, this is precisely the point of picture study. 

We hope that our children will develop a real and honest affection for great art.  My goal is not to turn them into art critics or scholars.  I hope the enjoyment of works of beauty will grow and mature with them.
SCM currently has Portfolios for 3 artists:  Velasquez, Rembrandt, and Giotto.  More are in the works.  We can't wait!