On the sabbath we went outside the city gate along the river where we thought there would be a place of prayer. We sat and spoke with the women who had gathered there. One of them, a woman named Lydia, a dealer in purple cloth, from the city of Thyatira, a worshiper of God, listened, and the Lord opened her heart to pay attention to what Paul was saying. After she and her household had been baptized, she offered us an invitation, "If you consider me a believer in the Lord, come and stay at my home," and she prevailed on us.  -Acts 16:13-15
Lydia and Hospitality
Today we're celebrating the Feast Day of our Little Lydia's name saint.
Saint Lydia was a wealthy business woman and Paul's first convert.  She sold purple dye and cloth, which was expensive and reserved for people of great honor.  Recent studies of his tomb have revealed that the remains of St. Paul are wrapped in purple cloth.
After her baptism, Lydia used her gift of hospitality to serve the Lord, and her home became a true Christian center where guests gathered for Mass and fellowship.  Today, hospitality is basically about manners and making guests feel welcome.  However, in the first century world hospitality meant even more: survival.  Travelers had to rely upon the hospitality of strangers because they wouldn't run into a Holiday Inn and a McDonalds every five miles. Traveling was downright dangerous, because of political unrest and instability.  So it means something that Lydia opened her doors to the early Christians. She not only gave them a place to sleep and eat, but she provided a place for the early Church to mature in safety.
Today's Tea
As we remember St. Lydia's contribution to the early Church, today we
created a family tea in her honor.  Our darling little Lydia is only 18 months old, but she already appreciates her saint's day tea (yum yum!):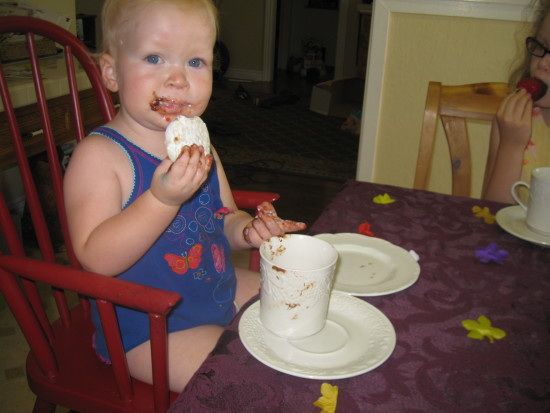 For our tea:
We covered the table with a purple cloth (of course purple!).
We served chocolate dipped strawberries, butter cookies, and pineapple.
We had pear and apple tea, and also chocolate milk.
Claire made bookmarks from St. Lydia icons.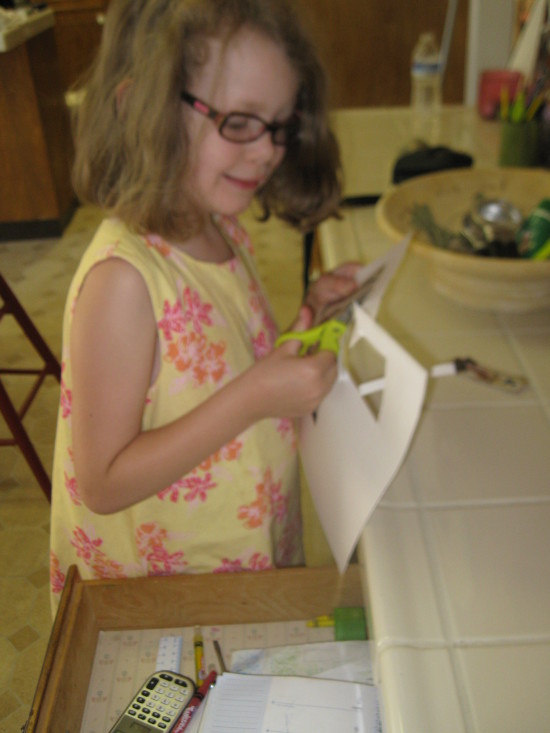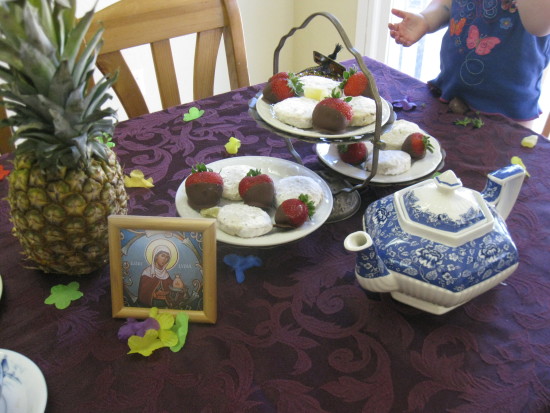 Other possible activities: tie-dye project or make dye from natural sources like berries or flower petals. (Apparently in St. Lydia's day, a single drop of purple dye was produced
by crushing hundreds of shells.)
We are grateful today for our Lydia — for the gifts she has brought to our family.  We are grateful for the way she helps us cherish innocence and wonder.